iOS 9.3 preview: Night Shift, more 3D Touch actions, secure notes coming to the iPhone and iPad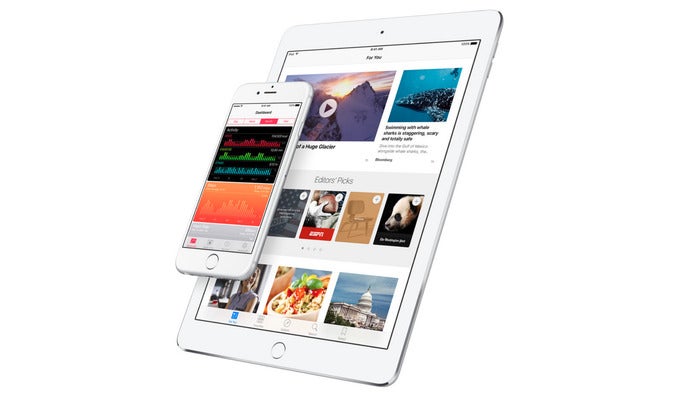 Not all software updates are created equal. Some just iron out glitches under a system's hood, improving its overall reliability. They're beneficial, but far from exciting. Other updates, however, go a step further by introducing new features and expanding existing ones. Undeniably, the upcoming iOS 9.3 belongs to the latter category, which makes it a piece of software worth being thrilled about. In fact, it does deserve its own preview.
For the record, we've been test-driving the iOS 9.3
beta version
on an
iPhone 6s
, not the finalized update. But even in this non-final form, the software has given us a clear idea as to how its new features have been implemented. Join us in the paragraphs below as we go over the most significant changes in the latest iOS release.
Night Shift
What if we told you that tweaking a screen's color output may help you get a better night's sleep? Just bear with us for a moment if you're skeptical about this. You see, most modern laptops, tablets, and smartphones emit light that is slightly blueish in tone. This is most noticeable when looking at content where white is predominant – when browsing a web page, for example. Research shows that this blueish hue may delay one's sleep, and that's not a good thing.
One way of tackling this problem is shifting the display's color output towards a warmer tone. This has been the concept behind f.lux – an application that has been available on PC, Mac, and Linux for years. On a related note,
f.lux for iOS was recently killed by Apple
, and although it can be installed using unofficial methods, doing so requires a jailbroken device.
Apple's alternative solution comes in the form of an iOS 9.3 feature –
Night Shift, which we covered in detail already
. Accessible from the Display settings menu, it automatically adjusts the color temperature of the device's screen, taking into account the user's location and the time of the day. In addition, we're given a slider to manually adjust how much blue light gets filtered, as well as the option to modify Night Shift's schedule.
So, does Night Shift actually work? Having used the aforementioned f.lux for a long time, some of us here at PhoneArena can confirm that the color shift does make a difference to how easily we fall asleep after staring at a screen until late in the evening. Your experience may vary, however, and it will be interesting to hear the feedback of a broader user group once the iOS 9.3 update is out.
But while Night Shift could have its benefits, it does bring along a serious drawback. Obviously, having it enabled throws the iOS device's colors out of balance. Things shown on screen just don't look as nice as they normally would. Because of this, it would have been nice if we had an easier way of disabling Night Shift when we do want to enjoy content in its original color – a switch in Control Center, for example, or a shortcut on the Settings icon accessible via 3D Touch. And speaking of 3D Touch...
New 3D Touch quick actions in stock apps
The iOS 9.3 release makes 3D Touch more useful by adding quick actions to several of the system's stock applications. For example, pressing on the Weather icon lists the top three locations in your list of cities, the App Store icon presents you with easy access to your purchased items, as well as a button to update all apps, and the iTunes Store has a neat shortcut to your recently downloaded content. But the shortcuts accessed via the Settings icon seem to hold the most practical benefit. You may instantly jump to the battery, Wi-Fi, Bluetooth, or wallpaper settings of your device. Overall, the list of newly added shortcuts isn't all that long, but we do appreciate everything that has been added, and we have a feeling that more useful functions will be added in future updates.
Secure your notes with a password or fingerprint
In iOS 9.3, the Notes application allows us to protect each note with a password, just in case we wish to hide it from prying eyes. The option is accessible from the Share Sheet, in case you can't find it.
But while the password feature seems pretty neat, it leaves room for improvement. For instance, the first few words in the note remain visible even after the password is applied. Seems odd, but that, we assume, is to give some indication as to what note we're looking at. Having multiple password-protected and completely hidden notes would have been a confusing sight. The remainder of the note's contents can't be seen without authorization, but a password does not protect a note against being deleted, and that is something that should be added, in our opinion.
We must make it clear that a fingerprint can be used instead of a password, although this may not be obvious at first. Alas, there doesn't seem to be a way to skip the latter entirely. Yet who knows, things might change by the time iOS 9.3 is released to the masses.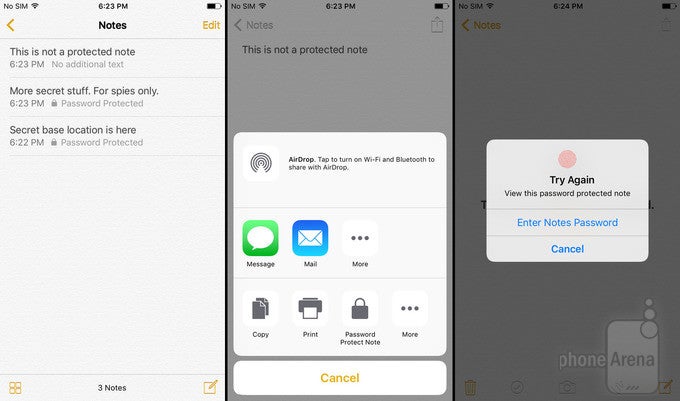 A better News experience
The News app in iOS isn't new. It made its debut with the launch of iOS 9.0, albeit in the United States, the United Kingdom, and Australia only. If your iPhone or iPad is configured to work in a different market, Apple's News app won't be listed on your device at all. But if you do have it, you'll be enjoying a smoother experience, as the latest stories now load more quickly. Also, videos are played right in the news feed, and the new landscape mode lets you read more comfortably on your iPhone. No less importantly, the app should be better at picking stories according to your interests.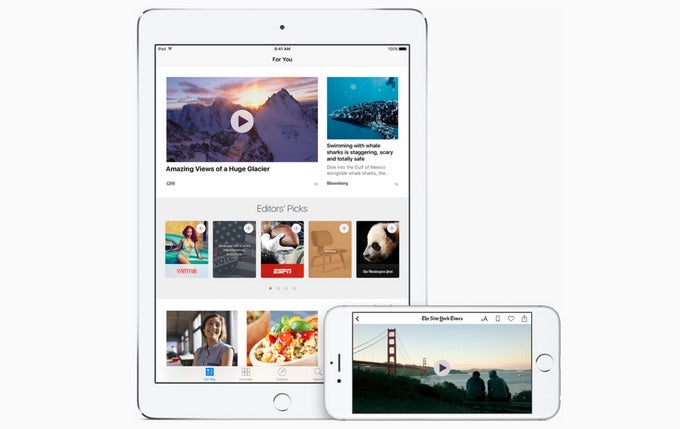 iOS 9.3 release date and expectations
While these were the most significant changes coming with iOS 9.3, the list of improvements goes on and on. The new software will also bring multi-user support to iPads used in education, an improved Health app, a better CarPlay experience, integration of iBooks with iCloud, Siri support for Finnish, Hebrew, and Malay, a faster multitasking menu, the option to pair multiple Apple Watches with a single iOS device, and much more. But the public release of iOS 9.3 is still several weeks away, or at least that's what we can assume looking at the release times for the last few iOS betas and final updates. We won't be surprised if Apple needs another month to ensure that iOS 9.3 is ready for prime time.
Should you install the iOS 9.3 beta while you wait? On one hand, there isn't anything of exceptional interest coming with the new software release. Yes, many of the new features are cool, but none of them is ground-breaking. Save for the new Night Shift mode, perhaps. But on the other hand, iOS 9.3 should soon become available for public beta testing. Once that's a fact, feel free to satisfy your inner geek by giving it a try. As for the current release, available to developers only, it isn't perfectly stable, so you might not want to bother with flashing that in case you somehow get a hold of it. (Update: The public beta of iOS 9.3 is now available.)