iOS 8 to have console-quality games by Crytek, EA, and Epic thanks to Metal graphics API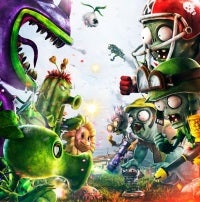 At WWDC 2014, Apple once again reminded us how seriously it takes mobile gaming. Apple's devices were the first ever mobiles to run games powered by Epic Games's Unreal Engine 3, and having Infinity Blade on the iPhone 4 was, and still is, a sight to behold. Today, Apple continued the tradition by introducing Metal - an API that will allow game developers to tap the A7 SoC's potential at speeds up to 10 times faster.
Judging by the demos shown, console-quality graphics are already a reality on the iPad Air, with console titles Plants vs. Zombies: Garden Warfare (powered by the Frostbite engine) and The Collectables (powered by CryEngine) shown running on the machine with un-touched graphics. Although we can safely presume these scenes weren't real-time footage, Apple did invite Epic Games' founder, Tim Sweeney, for a brief on-stage demonstration. He showed the audience the creation of a beautiful Unreal Engine in real-time inside the Unreal editor.
Essentially, the Metal API will let developers squeeze every last drop of power out of the A7 and allow for complex graphics processing effects. Metal is arguably the best piece of news for iOS gamers so far, and we're happy to report that Apple is working with established publishers, such as EA Games, Crytek, and Epic Games to bring new and renowned titles to the platform.