iOS 8 keyboard Brightkey gets a pack of Pantone-designed color schemes
5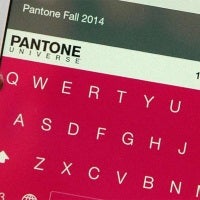 Pantone and Brightkey? Now what could that lead to? Actually, this is no trick question. Pantone made an industry out of the human perception of color, and Brightkey is a decent iOS 8 keyboard app. So there you go - Brighkey just got a whole lot brighter and colorful thanks to Pantone's expertise in the trade. The two announced a Pantone theme pack made out of 11 Pantone swatches. It goes without saying that the keyboard is positively color-crazy now, but we'll have to side up with Fast Code Design's John Brownlee, who brilliantly explained why the Brightkey-Pantone cooperation is a missed opportunity. The two could have made more than just a nice to look at theme pack.
First, Pantone has over a thousand printing ink colors catalogued with referential numbers. It has the resource to bring them all to iOS, which is a worthy investment considering Apple's substantial market share. It also has the creative talent on tap to make these colors dance with the words you type and receive, or let you mix and match colors in color-happy freedom. But no one says those great things can't come in the future.
11 Pantone themes is still a great start, and Brightkey is still a pretty nifty keyboard app. While there are a few days before the Pantone theme pack drops inside the app, it already offers 13 themes based on colors as well as textures; Quick-Fire messages; Sliding cursor control; and other stuff to compel you into trying it out. Brightkey is free to download on iOS.
Download Brightkey on
iOS