iOS 7.1.1 brings zippier, more accurate Touch ID
22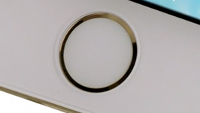 Notice
a change in the speed and accuracy of Touch ID on the Apple iPhone 5s, after the update to iOS 7.1.1.?
That is because Apple has allegedly changed the scanning process in the new iOS build, that recognizes the person who belongs to each fingerprint faster than before. With iOS 7.1.1, Touch ID takes multiple scans of your fingerprint in each position, instead of just a single scan. It then uses algorithms to predict problems with the scans that could take place in the future.
Originally, Touch ID was supposed to improve its accuracy every time you scanned a particular finger. But that was not true if your initial set-up was a bad one. If the first scan you took had problems, your scans would not gradually improve, unless you set-up your finger again from scratch.
With iOS 7.1.1, a poor set-up the first time you scan your finger, won't lead to constantly poor readings. In addition, the update improves accuracy using Touch ID. The update to iOS 7.1.1. also lowers the number of calculations required by the
Apple iPhone 5s
, before it unlocks the phone. Bottom line? A faster and more accurate fingerprint scanner on the device.
"Touch ID takes a 88x88 500ppi scan of your finger and temporarily sends that data to a secure cache located near the RAM, after the data is vectorized and forwarded to the secure enclave located on the top left of the A7 near the M7 processor it is immediately discarded after processing. The fingerprint scanner uses subdermal ridge flows (inner layer of skin) to prevent loss of accuracy if you were to have micro cuts or debris on your finger.

With iOS 7.1.1 Apple now takes multiple scans of each position you place finger at setup instead of a single one and uses algorithms to predict potential errors that could arise in the future. Touch ID was supposed to gradually improve accuracy with every scan but the problem was if you didn't scan well on setup it would ruin your experience until you re-setup your finger. iOS 7.1.1 not only removes that problem and increases accuracy but also greatly reduces the calculations your iPhone 5S had to make while unlocking the device which means you should get a much faster unlock time.-Apple iOS Security White Paper
And
code found in iOS 7.1.1
, reveals that Touch ID is coming to the Apple iPad Air 2 and/or the next iteration of the
Apple iPad mini with Retina display
. The faster and more accurate the fingerprint reader works, the less "gimmicky" and more use useful the feature appears to be.
source:
DailyMobile