iOS 6: minor tweaks that you might like
59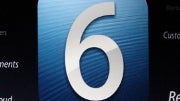 Siri on the iPad, Facebook integration, entirely new Maps application – these are just three of the 200 new
features that are implemented in iOS 6
. However, among them we spotted a number of improvements that did not receive any attention, but we think you deserve to know about their existence anyway.
To start, the camera app is being treated to an upgrade. iOS 6 adds control over the focus and exposure of the image, and that is great news for photo enthusiasts. Also, the HDR mode has been improved, and a video stabilization feature has been added, which is expected to result in even better looking HD footage. In addition, an auto-correct feature of some kind has been added, apparently, although we don't really know what it would look and feel like. Furthermore, strings in all fields in the contacts list can be searched in iOS 6, custom vibrations and alerts have been added, and users can set a song from their music collection to serve as an alarm.
Does any of these minor iOS 6 tweaks and improvements get you excited? Let us know by dropping a line in the comments.
Images courtesy of
PCMag