Want a taste of iOS 12's Siri Shortcuts? Download this app
6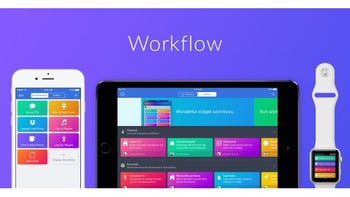 Apple introduced iOS 12 yesterday and, among the slew of new features, there was this thing called Siri Shortcuts. Basically, you can set up any sort of phrases to execute a chain of pre-set app actions on your phone. On stage, we saw the presenter speak out "I am headed home" on their iPhone, which triggered the device to send a text to their roommate as well as set the home thermostat to 70 degrees.
The automations are performed via a block-arrangement interface, which allows you to mix and match trigger actions with outputs for different results. And we thought it looked very familiar.
It's actually an evolution of the Workflow app. An automation suite for iOS, which Apple liked so much that
it bought the app and the team behind it
in March of last year. Since then, Workflow has been available on the App Store for free.
You can download it from the link below and explore the slew of different options that Workflow provides. It's a bit tough to wrap your head around it at first, but there are a bunch of pre-made setups as well as a "gallery" with extra ones that you can download in order to get a general idea of how the app works and what you can do with it.
Go nuts!