iOS 10 has now reached almost half of compatible devices
30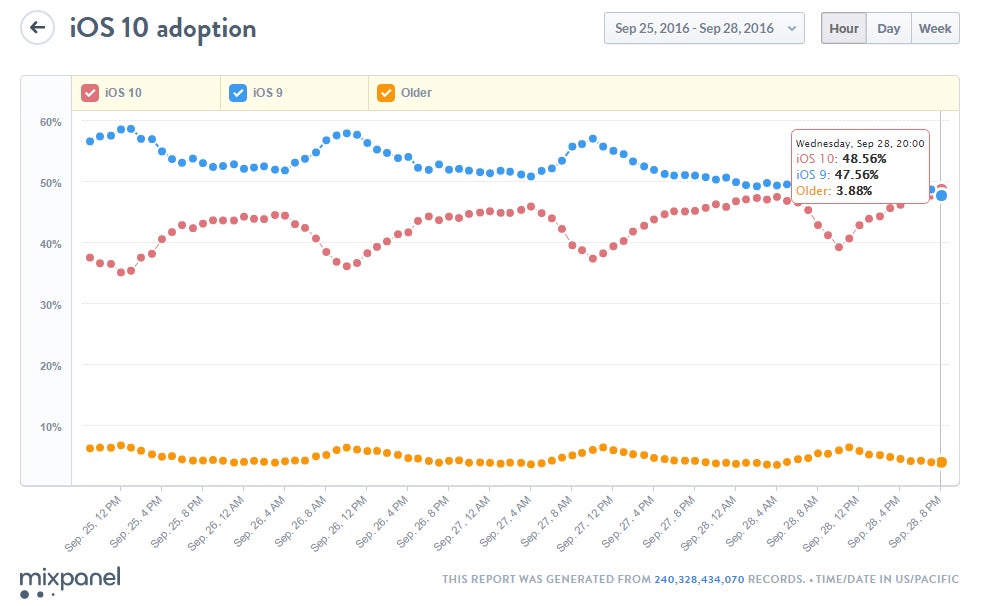 iOS 10 is apparently now more widely used than the preceding iOS 9
Almost 50 per cent of iPhone, iPad and iPod touch owners that can run iOS 10 are now doing so, according to new figures.
iOS 10 is was rolled out just over two weeks ago
with a bunch of new features and performance tweaks and now, stats firm
Mixpanel
has discovered that 48.16 per cent of iOS 10-ready gadget owners have taken the plunge.
Since Apple's iOS updates needn't sing to the tune of carriers or third-party OEMs à la Android, owners of iOS 10-ready devices have been eligible for the update from the moment Cupertino rolled it out. Uptake has once again been impressive
if slightly slower than last year's
, but there's another secret behind Apple's success in this regard. Those still lagging behind are generally met with a barrage of pop-up reminders to get them to update and while it's not too bothersome at first, it quickly gets old. Thus, we expect this figure to continue rising as Apple aims to repeat iOS 9's
impressive 9-in-10 adoption
.
While these figures suggest Apple is struggling to get users on board as quickly as it did with iOS 9, Mixpanel's estimates are not official .Still, the same company reported last week that around
one-third had made the leap to iOS 10-dom
, and with 47.79 per cent of devices said to be running iOS 9, it seems the latest version has finally become the majority stakeholder.