iLuv MobiOut Bluetooth speaker hands-on
3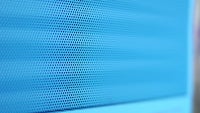 It's a hot summer day and all you want to do is just sit by the pool and listen to some of your tunes. Well, it's not like you can bring any speaker near the water, seeing that most of them wouldn't handle splashes all that great. Fear not though, because the
iLuv MobiOut
Bluetooth speaker allows you to listen to your favorite tunes without any worry about it getting damaged due to splashes of water from all of the people diving into the pool.
In terms visuals, there isn't anything to spectacular with the iLuv MobiOut's design, since it follows the rectangular frame of most other speakers in the same segment. However, what separates itself from the crop is the
splash-proof and rugged element
of the speaker. Sporting a rubbery finish, the iLuv MobiOut is able to withstand some minor drops and splashes, which would otherwise do detrimental damage to other speakers.
Along the top surface, we have useful dedicated buttons that provide us access to different functions – like power on, volume control, track forward/reverse, and pause/play. Meanwhile, hidden behind a flap in the rear that prevents any damage from splashes, we spot its other ports and switches. Interestingly, it features a
full-sized USB port
that provides us with the usefulness of charging devices on-the-go with its
Jump-Start Technology
. However, the downside is that the MobiOut isn't able to pump out any audio while it's juicing something.
Pairing it to a Samsung Galaxy S4, the iLuv MobiOut's volume output is only marginally better than the smartphone. Sure, there's a little bit of bass that accompanies the output, but it's simply
lacking the commanding audio quality
to make it suitable for outdoor usage. Instead, it's ample enough to fill the air of smaller sized rooms – whereas, if it's used outside or in open areas, it's going to have a tough time dispersing its audio.
If we are to base everything strictly on audio quality, the iLuv MobiOut is rather expensive at
$119.99
. It simply pales in comparison to other speakers in the same category! However, some people will surely appreciate its other qualities – like its built-in battery, rugged design, and splash proof nature. Still, it's worth mentioning that it's not totally water proof, which means that you wouldn't want to dunk this one under water.
source:
iLuv
More portable Bluetooth speakers