Huawei may be working on a phone with an under-display selfie camera
5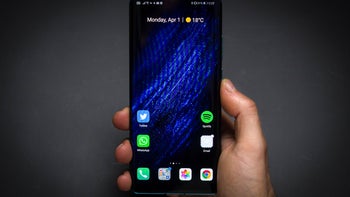 It feels like yesterday when the notch "trend" took over the mobile world, with the word "bezel-less" thrown around like a rag doll. These days, though, we're over the notch and into the camera punch-hole, but that seems to be on its way out as well. After all, these are merely stop-gaps on the way to the truly all-screen, solidstate device.
We've already seen working prototypes of
under-display cameras from Oppo and Xiaomi
, and there is no shortage of rumors suggesting that other companies,
including Samsung
, are working on a similar under-display implementation for selfie cameras. The challenges are many, but it seems like we are finally entering the final stages of the bezel-less design concept.
Not one to be easily upstaged—despite its recent hurdles with the US—Huawei is the latest major company to indicate that it is working on a smartphone with an under-display camera. Recent Huawei patents for a mobile user interface that accommodates the new type of selfie camera were spotted by
WinFuture
, and they offer a glimpse at how the company may tackle the implementation of an under-display camera in a future smartphone.
The patent includes an image where the lens is seemingly visible and resembles a screen hole-punch-style solution. However, in other images, the user interface is clearly drawn over the camera. In one of the illustrations, there appears to be a multi-colored ring around the lens, which could be some sort of notification light. In another, the current camera mode is displayed next to the lens.
Of course, as is the case with all patents, there's no guarantee that
any
of the aforementioned features will ever be translated to reality. However, considering that other companies have confirmed to be working on phones with under-display cameras—with
Oppo outright showing off a working device
—it wouldn't be too far fetched to assume that Huawei is also experimenting with this idea. What comes out of it, though, remains to be seen.
Recommended Stories