Apple continues to keep Google at bay in global app revenue, but the gap is slowly closing
24
Sensor Tower's
latest in-depth analysis of global mobile app revenue and download figures
is out, and many of the conclusions are wholly unsurprising, confirming the same old trend. While Google's Play Store continues to hold a massive advantage over Apple's App Store in terms of the number of apps installed for the first time by its users, the Cupertino-based tech giant still reigns supreme when it comes to actual financial gains.
According to the newest estimates, the iOS App Store generated a whopping $25.5 billion in revenue during the first half of 2019, up from $22.6 billion between January and June 2018, while Android users only spent $14.2 billion over the first six months of this year, which also represented a healthy increase from $11.8 billion in H1 2018. All in all, global app revenue jumped from $34.4 billion to $39.7 billion year-on-year, with the App Store accounting for a dominant 64 percent slice of the pie.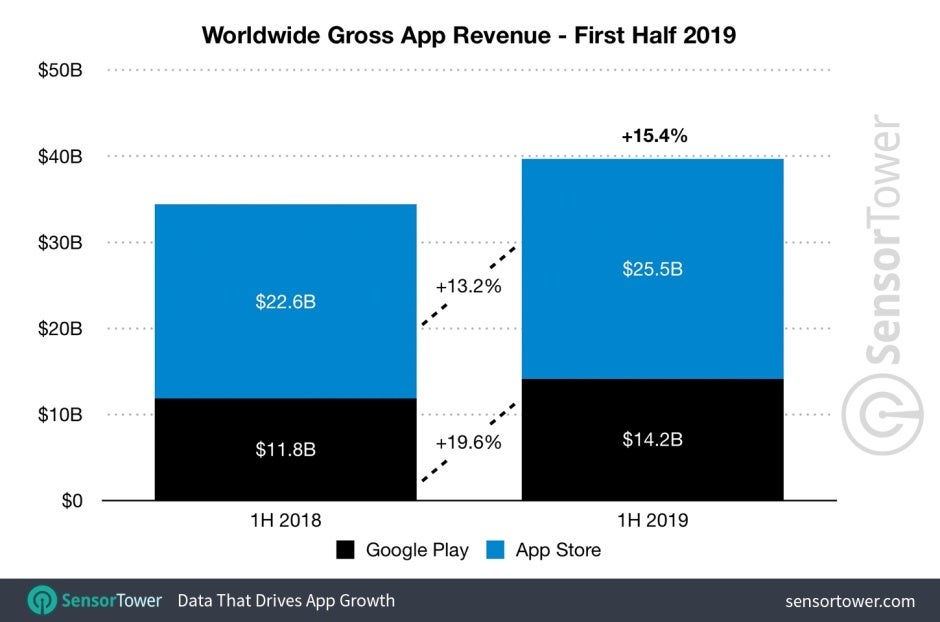 That towering number is even more impressive when you take into consideration that the App Store accounted for only 14.8 billion of the 56.7 billion overall first-time app downloads estimated for the H1 2019 timeframe. That means Apple made 80 percent more money than Google despite the Play Store racking up almost thrice as many first-time app installs. Believe it or not, the revenue gap could have been even larger and
actually was larger in 2018
.
At the same time, it's definitely worth highlighting that Q1 2019 was the first-ever quarter when iOS downloads declined year-on-year due primarily to a "downturn in China." While App Store installs bounced back during Q2, the growth was not big enough to offset the previous quarter's loss. Naturally, Apple is far more interested in making money than boosting download scores, but this can't be viewed as a particularly encouraging trend.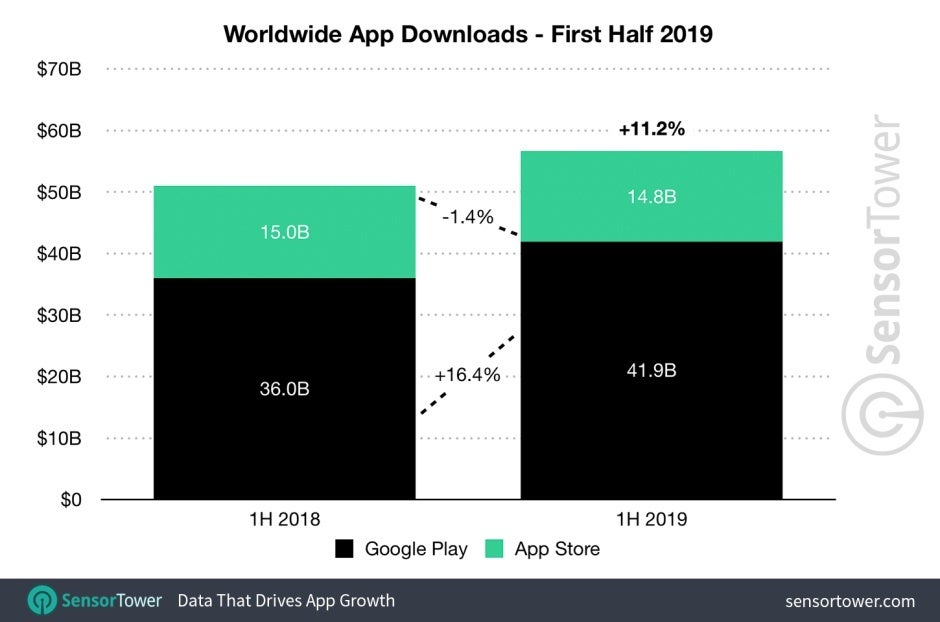 As far as the most profitable apps across both mobile platforms go, Tinder continues to top the charts, followed by Netflix, China's Tencent Video service, iQiyi (?!), and YouTube. Meanwhile, the newest list of the world's biggest game earners is headlined by Tencent's Honor of Kings, followed by Fate/Grand Order from Sony, Monster Strike, Candy Crush Saga, and PUBG Mobile.
Unsurprisingly, the App Store generated far more revenue than Google Play from games as well, but the latter's numbers grew by 16.8 percent to $12 billion, while Apple reached $17.6 billion after a much humbler 7.8 percent year-on-year progress.
Recommended Stories