The best cases for Samsung Galaxy Note 10 and Note 10+: protect your shiny new jewel!
11
We may earn a commission if you make a purchase from the links on this page.
The Galaxy Note 10 pre-orders are up and the shiny new powerhouses will soon be in the hands of their happy new owners. But hey, Samsung's smartphones may bring a lot of bang, but they sure cost a pretty buck! It'd be a good idea to plan ahead and stock on a couple of cases to protect that reflective jewel while you are out and about with it. And a choice of cases you have! Be it an armor shell that'll keep the Note safe in during the most trying of times or a slim case that will add some grip to it without making it too bulky — you can get it. And to make things easier for you, we prepared a list of the best cases you can order for your future Note 10 or Note 10+ right now. Let's check them out!
Note 10 and Note 10+ thin cases, transparent cases
A thin case will usually not protect your phone against a violent drop. However, it will add some extra grip that will make the drop less likely to happen. Shiny glass and stainless steel can sometimes slip right out of your fingers, especially when taking the device out of your pocket. A matte plastic or silicone case might not feel so great to the touch, but it might keep you away from a lot of potential trouble, heartache, and display replacement costs. Also, slim cases keep your phone's profile fairly slim and the transparent ones allow you to still enjoy that Aura Glow effect. So, let's check some of them out!
Spigen models
Spigen is a well-known manufacturer and for good reason. It has a ton of products out there, covering a wide range of phone models and user needs. From slim to fully armored. The Thin Fit series is a favorite because it is... well, very thin. It has cutouts that let you interact with the phone's actual buttons, so you can still enjoy the touch of metal and get that premium "click" feedback that feels so good when the manufacturer gets it right. The Slim Essential S is a transparent TPU shell with an integrated kickstand. It's a bit thicker than Thin Fit, but it's transparent and it lets you enjoy the phone's looks. The Liquid Air comes in just one color — black. It's a TPU shell with a matte finish and lots and lots of engravings, which make it very easy to grip. It's a fairly new model but is already becoming a favorite for those that like a mix between stealthy looks, slim fit, and good amounts of protection.
VRS Design models
VRS Design is another popular case maker that has a bunch of unique models for you to pick from. Here, we will highlight the Damda Crystal Fit and Damda Crystal Mixx. The Fit is a fully transparent, glossy TPU case, which follows the forms of the Note 10's new design to the T. It comes with a convenient strap hole, if you like the idea of being able to dangle your Note around your wrist (or just strap it on for safety during long photography sessions). The Crystal Mixx is thicker for added protection and has a black TPU frame while its plastic back is still transparent — you can still enjoy the shiny Note 10 finishes through it.
Otterbox models
Otterbox is well-known for making cases with high levels of protection. But the company does make some thinner models for those that want a slimmer profile. They are still not as slim as the Spigen Thin Fit, but they do have an interesting design to them, which can give your Note 10 or Note 10+ a unique look. The Otterbox Simmetry Series come in either clear or colored variants. You will notice that the Rose Pink model makes the most use of the case's accents, which is a shame for those that might want to go for black or blue.
Buy here:
Olixar models
Olixar has a glossy black TPU case, which will make your Note 10 look nice and stealthy. It's still fairly slim and follows the form of the phone, ensuring you get good ergonomics and its flexible structure will provide some protection against accidental bumps. There's also the Executive Wallet model, which is a slim, faux-leather case with three card slots on its back. It looks classy, it's not too thick, and its tiny pockets make it practical in specific times, when you don't have room to carry a wallet with you.
Note 10 and Note 10+ armor cases, wallet cases
Sometimes, you need to slap a thicker case on your phone. Be it for the practicality of having a wallet and a phone case in one, or due to the fact that you will be hiking in the wilderness and need your handset to be well protected against bumping in the occasional rock. For these instances, we have another selection of really cool cases:
Spigen models
Again, manufacturer Spigen has a ton of different cases to pick from and this is our favorite armored model, available in two variants: the Slim Armor and Slim Armor CS. As the name suggests, it's a more durable case, made to hopefully guard your phone during more violent drops. It features two layers of protection — a TPU wrap and a plastic shell. The CS variation sports a cool sliding door on its back, which reveals a card slot for your valuables. The regular version has an integrated kickstand.
Buy here:
| Galaxy Note 10 | Galaxy Note 10+ |
| --- | --- |
| Spigen Slim Armor | Spigen Slim Armor |
| Spigen Slim Armor CS | Spigen Slim Armor CS |
Olixar Wallet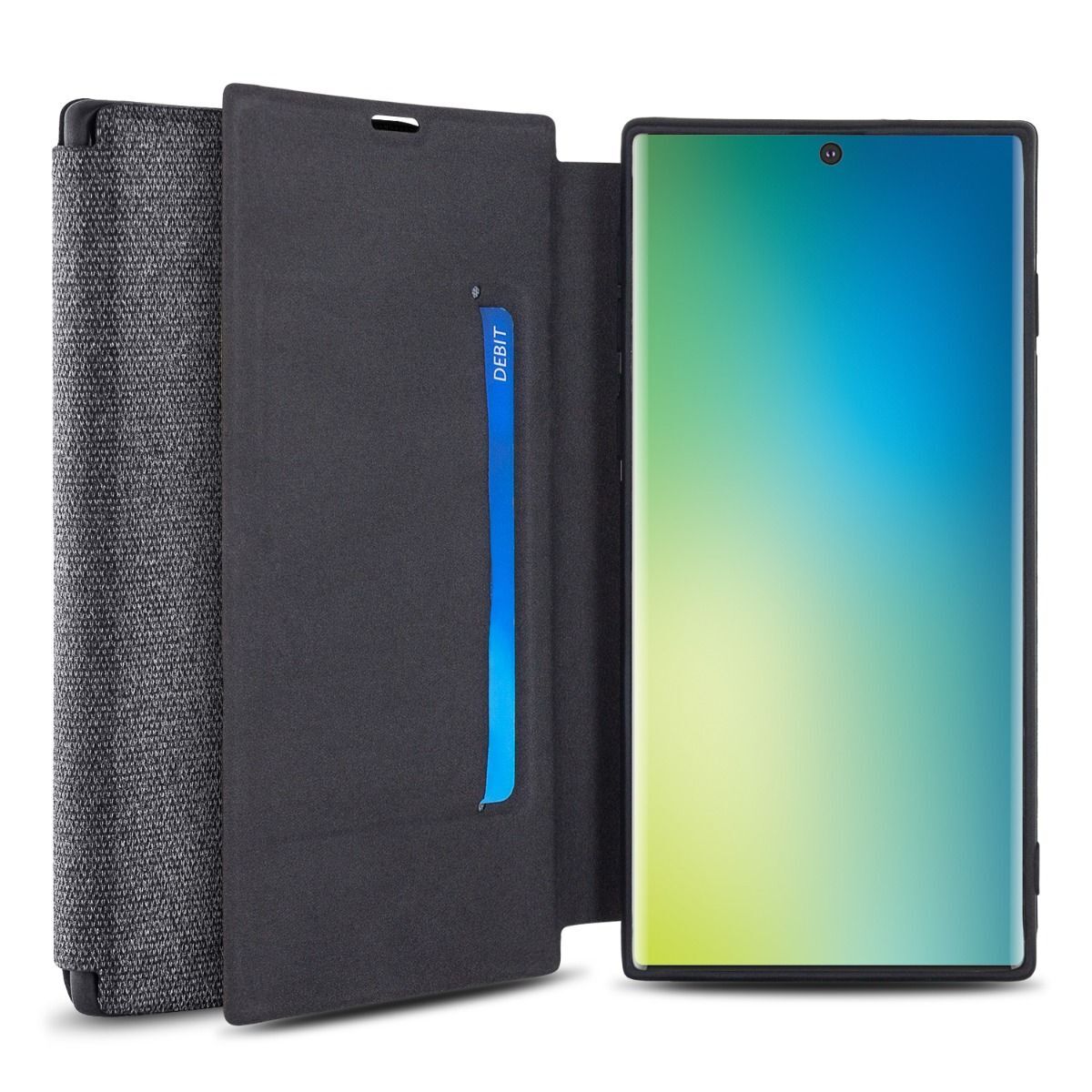 The Olixar Wallet case comes in a beautiful canvas fabric finish and is relatively slim. It only has one card slot keeping things minimalistic, but also easily pocketable. It also conveniently transforms into a kickstand when its time to kick back and enjoy some multimedia.
Buy here:
Caseology Legion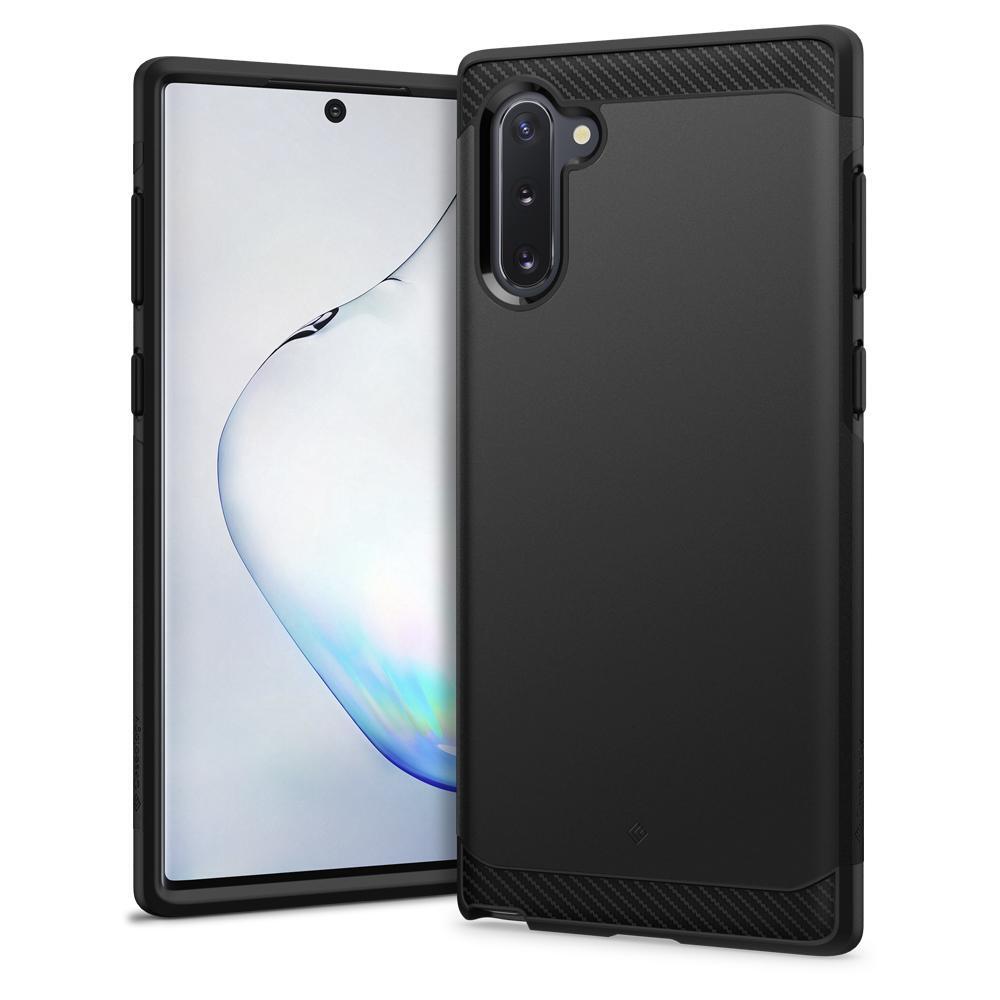 That's a strong-sounding name for a tough-looking case. The Legion is in the class of Spigen's Slim Armor as it's also a mix between TPU and polycarbonate protection, made to be as slim as a dual-armored case can be. It doesn't have bells and whistles like a kickstand or a card slot, but there's something alluring in its simplistic design and tastefully-placed accents. Also, it comes in three colors — black, blue, and purple.
VRS Design models
If you are ever concerned with your phone slipping from your hand or sliding off a table, check out the VRS Design Damda High Pro Shield. Yeah, that's a mouthful, but stay with us. This Damda model comes in a Sandstone finish — that's a very grainy and incredibly grippy surface, made popular by the OnePlus One and OnePlus 2 back in the day. To top it off, the Damda High Pro Shield is a proper armor case — thick and protective.
The Damda Glide Shield is VRS's armor case with a card slot. It comes in a few interesting colors to pick from and there's even a Damda Glide Shield Gradient version, which is as colorful as it sounds. We chose to avoid the Gradient edition, however, because its card slot door is transparent. It would kind of bother us to put a credit card or money in there.
Buy here:
Otterbox Commuter
The Otterbox Commuter cases are well-known for being super-rugged without adding too much bulk. Of course, the company had to make a Note 10 edition as soon as possible. Again, the pink one has the cooler accents for some reason, but the black one does have its own charm to it — there's something very Batman-like in its low-key high-tech appearance.
Armor-X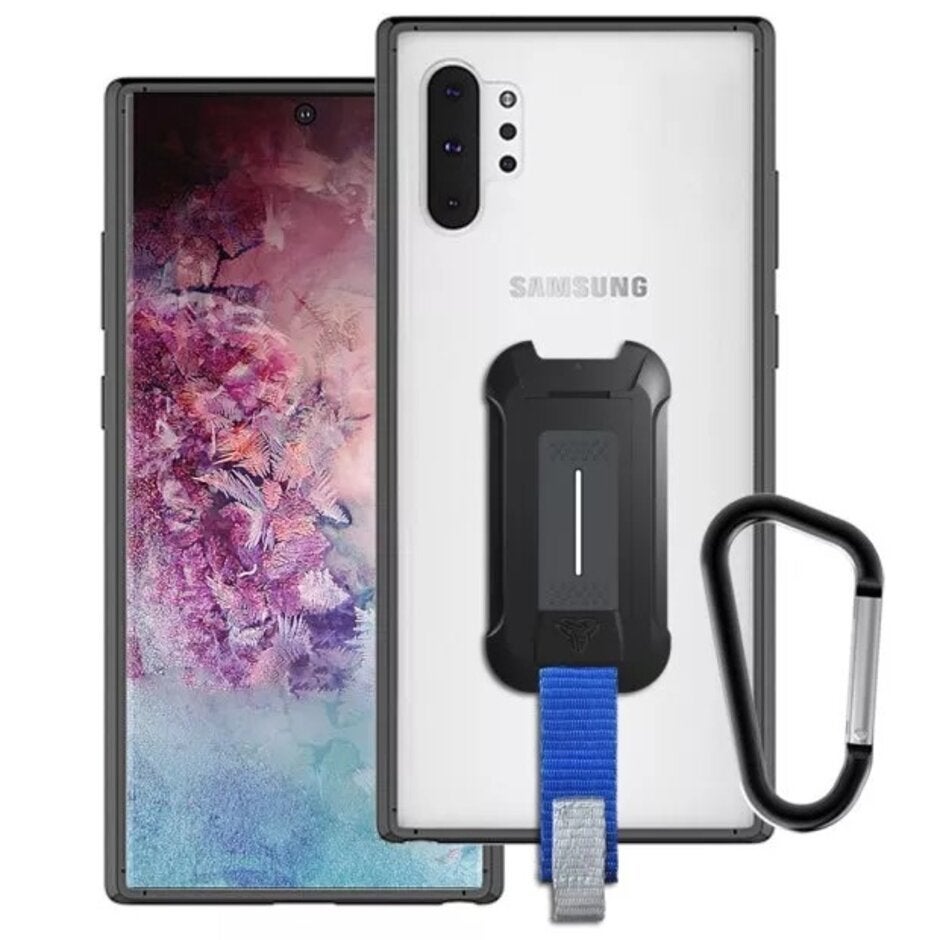 Armor-X offers a single case model per phone — mostly an armored shell meant to protect your phone during physical activities. What sets this case apart is its X mount — it is an entry-point for an ecosystem of various mounts to attach to. Armor-X sells bike mounts, car mounts, chest straps, tripod mounts, selfie sticks, even boat mounts. So, if you live an active lifestyle and want to use your phone throughout every adventure — check this case out.
Case-Mate models
Case-Mate's tough models make up for their bulky size with some vibrant colors to stylize your device with. The Tough Neon case comes in three color variations with screaming accents along the toughened frame. Tough Groove has a bold pattern on the back and comes in a rainbow color finish of its own. At least you won't miss the Aura Glow that much when you've covered it up with that case.