A wild new report claims the foldable iPhone will support the Apple Pencil
7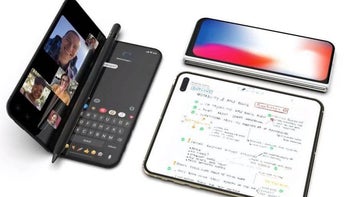 According to a couple of recent reports,
Apple
is currently
testing foldable displays
for a possible bendable iPhone. The scope of the work is apparently only the development of a foldable screen at the moment and the company hasn't locked in plans to launch an actual device. Still, a foldable iPhone seems very likely, given that foldable smartphones are expected to be the fastest-growing category of flagship phones in the coming years and every major manufacturer is expected to have a bendable portfolio by 2025.
Apple has apparently developed both
clamshell and book-like prototypes
and it was said to be leaning towards the former, which indicated that the device would be more of a Galaxy Z Flip competitor. This bodes well with a recent leak that also says the foldable iPhone will be
targeted at young users
. The Cupertino giant has reportedly discussed numerous sizes, including one that's nearly identical to the iPhone 12 Pro Max when unfolded.
iPhone 13: price, release date, features, and specs
A new report from research firm
EqualOcean
paints a different picture.
Looks like the foldable iPhone will be a phone-tablet hybrid
Citing analytics firm Omdia, the reports say that the foldable iPhone will sport an OLED display which will be between 7.3 and 7.6-inches. More interestingly, the report also alleges that the phone will support a stylus. It's best to take this bit with a pinch of salt as the Apple Pencil is not compatible with any iPhone currently. That said, a 2019 prediction from
investment bank UBS
, and a scoop from a
Twitter leaker
suggest that Apple's first foldable device will in fact be a foldable iPad.
At the end of the day, it's too early to say anything, given that most rumors claim that a foldable iPhone is a long time off, including today's report which pegs the launch timeline for 2023.
Recommended Stories