Facebook has a new corporate name and a new philosophy
2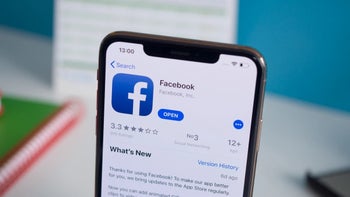 As expected, Facebook today announced a new corporate name. Earlier today during the Facebook Connect event, the company said that it will now be known as Meta. Keep in mind that the website and the app will not have a new name and will still be known as Facebook.
Facebook's corporate name is now Meta

CEO Mark Zuckerberg said that the Facebook name isn't a valid reflection of what the company does now and said that Facebook is only one of its products. "We are a company that builds technology to connect. Together, we can finally put people at the center of our technology. And together, we can unlock a massively bigger creator economy."
The executive added that "But over time, I hope we are seen as a metaverse company." A metaverse is "a virtual-reality space in which users can interact with a computer-generated environment and other users."

In a blog post
disseminated today, Zuckerberg wrote, "The next platform will be even more immersive — an embodied internet where you're in the experience, not just looking at it. We call this the metaverse, and it will touch every product we build."
Zuckerberg added, "The defining quality of the metaverse will be a feeling of presence — like you are right there with another person or in another place. Feeling truly present with another person is the ultimate dream of social technology. That is why we are focused on building this. In the metaverse, you'll be able to do almost anything you can imagine — get together with friends and family, work, learn, play, shop, create — as well as completely new experiences that don't really fit how we think about computers or phones today."
In the blog, the beleaguered executive writes about a future where you can teleport as a hologram and arrive at your office without a commute. Or attend a concert, or even visit your parents without losing the time it takes to travel and deal with traffic. Many of the things that are part of the physical world right now could end up being holograms in the future such as "your TV, your perfect work setup with multiple monitors, your board games and more — instead of physical things assembled in factories, they'll be holograms designed by creators around the world."
Zuckerberg's original comment about making money to build better services might not be sincere

According to the Facebook co-founder, "You'll move across these experiences on different devices — augmented reality glasses to stay present in the physical world, virtual reality to be fully immersed, and phones and computers to jump in from existing platforms. This isn't about spending more time on screens; it's about making the time we already spend better." He repeated a comment made in his original founder's letter: "We don't build services to make money; we make money to build better services."
That last comment may not be sincere. Recently, Facebook whistleblower Frances Haugen said that the company would rather make money than change its algorithm and make the world a safer place. Haugen stated, "Facebook makes more money when you consume more content. People enjoy engaging with things that elicit an emotional reaction. And the more anger that they get exposed to, the more they interact and the more they consume."
Zuckerberg appears to realize the need for change, and not just changing the company's name. He says that privacy and safety need to be built into the metaverse from the beginning. And from now on, the company will be metaverse first instead of Facebook first. Eventually, you won't need to have a Facebook account to use the company's other services. He says, "As our new brand starts showing up in our products, I hope people around the world come to know the Meta brand and the future we stand for."
By the way, for you Facebook stock traders, the company's stock symbol will change from FB to MVRS.