Deal: eBay offers 15% off (up to $100 discount) on the newest flagships (today only)
7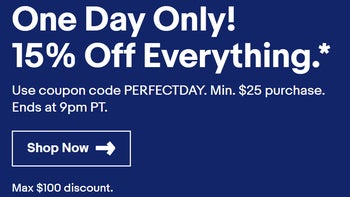 If you want to replace your old smartphone with a brand new one and you're looking for a bargain, eBay is one of the places where you can score a great deal. In case you've already found a handset that fits your needs, then eBay's 15% off voucher may help you score an even better deal.
Assuming you find the smartphone you wanted on eBay, you can now use the coupon code
PERFECTDAY
to get an additional 15% off on the deal. Keep in mind though that the discount can't go over the $100 amount.
Also, the 15% discount off only applies to a minimum purchase of $25 and is valid from 7:00 AM PT until 9:00 PM PT on June 28, 2018. eBay also states that the discount only applies to purchase price (excluding shipping, handling, and taxes) of eligible items.
While you can include multiple eligible items, you can only use the coupon within a single transaction just one time. Finally, only
eBay users
registered with an address location in the U.S., Canada, Latin America or the Caribbean are eligible for the 15% discount coupon.
We've piled up a couple interesting deals that you might be of interest to those looking for a good deal on a brand new flagship smartphone, but there are a lot more available on eBay, so make sure you search for the device you really want if it's not listed below:
Even those smartphones that have been discounted by the seller are eligible for the 15% off coupon, so you'll have until the end of this day to find the best deal for your wallet.