No controller support for Fortnite and PUBG? No problem! Use this lifehack to add trigger buttons to your phone!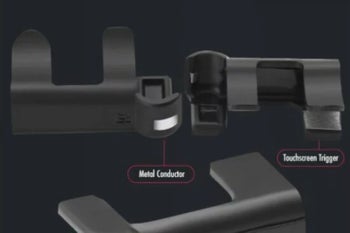 Playing any type of shooter game on mobile has always been troublesome. Having to walk, strafe, aim, and shoot with nothing but your two thumbs over a glass screen is less than optimal. It's the main reason why a lot of people give up on shooters on phone altogether. But now, with the super-popular titles Fortnite and PUBG hitting mobile, a lot of people are going to be trying to get into it once again.
Well, you needn't torture yourself! There is a way to turn your phone into a controller-like contraption by adding trigger "buttons" over its frame. That way, you will be able to scope in and shoot by tapping over the top of your phone with your index fingers, while your thumbs continue to work on movement and aiming.
How? Well, it requires either a special clip-on device that you can buy or a do-it-yourself lifehack contraption.
FEATURED VIDEO
The do-it-yourself way
OK, so you want to test this out for yourself, or you are still waiting for your order to arrive. No trouble, you can make your own trigger buttons at home. All you need is aluminum tinfoil and scotch tape — common household items. You need to cut out a small piece of aluminum and fold it so it can touch your phone's screen and go around to the frame (or to the back of the phone, if that's more comfortable for you). Then, you tape the foil in place and you are ready for your gaming session!
There are a number of instructional videos on YouTube on how to do this. Here's a good one that really shows you all the steps:


And there's one that went beyond the rather inelegant scotch tape method and actually went all the way to making home-made clips, which function like the ones that are for sale:
Other modders have made it using hairpins, clothesline clips, and others. Just anything that will hold the foil over your phone's screen and let you tap on it on the other end. Whatever you come up with, make sure it doesn't scratch your screen!