Useful tool recently added to Google Contacts app
Google has added a new tab to its Contacts app. As far as apps go, this is one that you probably never think about until the exact moment that you need to use it. It doesn't excite you or give you something to do like a mobile game, it won't keep you entertained like a streaming video app, and it won't keep you up-to-date like a news app. The Contacts app lists the names of the people you get in touch with often using your phone.
Besides showing the names of your contacts, the listings give you the ability to call, text, or video chat with each person using a single tap. These are people whose info you have entered into the app which means it is usually filled with friends, family members, and people you communicate with often due to work or for other reasons (like a particular Doctor).
The Contacts app has tabs on the bottom of the screen including one named "Contacts" which, when tapped, shows you a list of your contacts in alphabetical order based on the first letter of the first name. The "Fix & manage" tab allows you to import data from your SIM, restore deleted contacts, delete contacts, see the phone numbers you've blocked and unblock them, and more.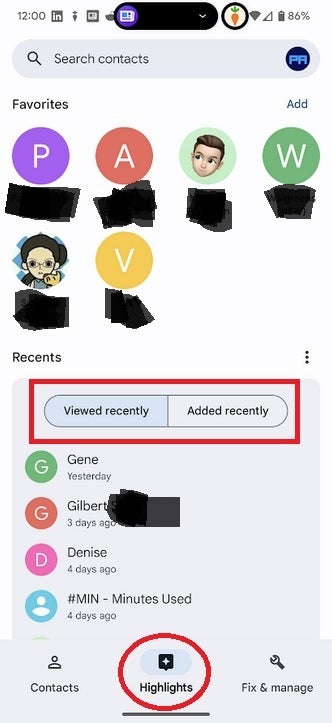 The Google Contacts app has been recently updated
Google
has recently added a new tab called "Highlights." Tap it and you will see your Favorites in the top half of the screen with the bottom half of the display showing the four contacts you have viewed recently, or the four contacts you've most recently added to the app with the date of addition listed underneath each name. You can choose between these two options by tapping on the appropriate part of the long pill-shaped element found under the Recents heading.
This might not be the most earth-shattering feature ever added to an Android app by Google, but any tool that helps you find a name or number, or helps you quickly get in touch with someone is certainly welcome. Instead of scrolling through a long list of names, you can search for the one person you want to communicate with right now.