9 of the best platformer games for iOS and Android (2018)
5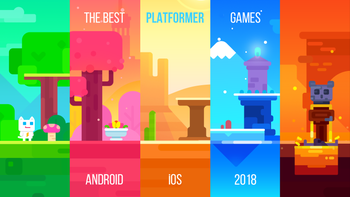 In 1981, an interesting new game hit the arcades. The title was called Donkey Kong and it would later be regarded as an all-time Nintendo classic. Many were the factors that made it a video game unlike the rest, one of them being that it told a story. Pauline, a damsel in distress, had been kidnapped by a giant ape and it was up to a hero to save her. That hero, referred to as Jumpman at the time, was later to become a character you may have heard of – Mario. But no less importantly, Donkey Kong was the title that lead to the rise of the beloved platformer genre.
Naturally, platformers have evolved quite a bit since the 80's. While they're practically based on the same principle of navigating a hero by jumping from platform to platform, they've been influenced by a number of other genres. RPG elements are often found in today's jump and run titles – heroes gain experience, grow stronger, and have the ability to buy better gear. We've also seen more than a few examples of a great action shooter platformer, reminiscent of old-school classics like Contra and Metal Slug.
Speaking of which, below we've put together some of our favorite platformer games available on Android and iOS in 2018. Take a look and let us know which one's your favorite. As always, if there's a great platformer that you think we should have included, do let us know by leaving a comment!
Magic Rampage is the perfect mix of the platformer, RPG, and action game genres. There are multiple character classes and tons of loot to collect. The gear you find also changes the appearance of your character.
In addition to the campaign, there's a multiplayer challenge mode and a survival mode. If you're not a fan of the touchscreen controls, it's worth noting that Magic Rampage supports joysticks, gamepads, and physical keyboards.
Super Phantom Cat 1 & 2
If you're looking for a classic Super Mario-like platformer experience with fresh graphics, then you should definitely download the Super Phantom Cat series. These titles feature simple, easy to learn controls and are quite suitable for casual gamers.
Your goal is to find the portal at the and of each level. While at it, you can collect data to unlock additional characters and roam around in search of secret areas. And there's quite a few of them. Ads in this game are not intrusive, but keep in mind that there's an energy level that depletes whenever you complete a level. Still, it's far better than most of the freemium games on the market.
Sonic The Hedgehog 2 Classic
Are these new platformers simply not cutting it for you? Well, why don't you try this 1992 classic! If you're a veteran gamer, Sonic The Hedgehog 2 needs no introduction. This fast side-scrolling game has you dashing through twelve different zones with Sonic, Tails, and Knuckles. Collect rings, evade your foes, and locate the Chaos Emeralds in order to stop the evil Dr. Eggman.
This remastered Sega gem also features Time Attack and Boss Attack modes that allow players to compete online. The ads can be a bit annoying at times, but you can play hassle-free if you have $1.99 to spare.
Dan the Man
At number 4, we have one of our favorite modern pixel art titles. Dan The Man offers a truly authentic old-school 2D sidescrolling beat em' up experience. Your goal is simple - avoid the obstacles, kill the bad guys, and battle it out with bosses. You can use a variety of upgradeable weapons and learn new special moves and abilities.
When you finish the story mode, the game resets and puts you in Hard mode, where the enemies are more powerful and you don't start with a revival potion. There are also the survival and battle modes for those of you who have completed the campaign.
Badland 1 & 2
The Badland series is an award-winning adventure platformer set in a gorgeous forest full of various inhabitants, trees and flowers. Although the forest appears to be right out of a beautiful fairy tale, there's something terribly wrong. The player controls one of the forest dwellers to find out what's going on and discovers an astonishing number of imaginative traps and obstacles on the way.

Badland features innovative physics-based gameplay combined with great graphics and audio. There's an intriguing head-to-head multiplayer mode for up to four players on the same device and a co-op single player if you want to enjoy the game with friends.
Super Mario Run
Despite being quite pricey for a mobile game, Super Mario Run is still one of the best platformer titles you can play on iOS and Android and deserves a place in our selection.
If you haven't heard by now, this is an automatic runner game that takes the core concept of Mario titles of yore – which is running and jumping – and simplifies it even further by taking the burden directional movement out of the equation. In other words, Mario runs on his own from left to right and you only have control over his jumps. A quick tap results in a small hop, while a longer press sends the plumber soaring through the air. It's a simple control scheme that's perfectly suited for touchscreen devices and very responsive.
The game's first three levels are free while unlocking the full package will set you back with $10. The "World Tour" campaign features 24 levels, while you can also play the Remix 10, Toad Rally, and Kingdom Builder modes.
Shadow Blade
Shadow Blade is a great action platformer that features crisp gameplay and modern graphics. As a deadly ninja, you have to evade the traps, slay your enemies, and collect various items along the way. The levels are timed, so you need to do all of this in a fast manner. You'll be ranked according to your performance, with a perfect execution giving you the highest grade.
The story in the campaign is told through motion comics and there are three difficulty levels for those of you that like a challenge. If you're on Android, there's also a freemium version of the game called
Shadow Blade Zero
.
Leo's Fortune
Leo's Fortune is a beautifully drawn game in which you aid Leo on his journey. Conquer dozens of obstacles and puzzles as you search for the thief who stole the fuzzy protagonist's treasure. Although the game is compatible with physical gamepads, you should have no troubles mastering the well-executed touch controls as you progress through the game's 24 treacherous levels.
Heart Star
Finally, we have a great puzzle platformer for you to try. Heart Star tells the story of a couple that is trapped in two different dimensions. In order to bring them together (and complete the levels), you must guide the two adorable characters to a yellow platform. You can switch between different dimensions with a simple tap. Keep in mind that you can use the character in the other dimension as a platform or to carry you over obstacles. The title features 50 levels and there are no in-app purchases.