Can an Apple Watch tell if you have COVID-19? The Apple Respiratory Study intends to find out
2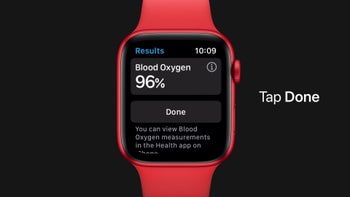 Just like it did when it introduced its
Watch 5 heart rate and ECG features
, Apple is now partnering with university research projects in order to put the new oximetry feature on
Watch 6
to a good use during these COVID-19 pandemic times. Given the lengths it went to data-mine and analyze millions of pulse readings in order to reach unique among its wearable-making peers
FDA clearance
, we have high hopes that the project will be successful.
Apple is now recruiting volunteers in partnership with scientist from University of Washington and the Seattle Flu Study "
to understand how everyday devices, like an Apple Watch or iPhone, can be used to predict illnesses like COVID-19
."
Live in the greater Seattle area
Be age 22 years or older
Have an Apple iPhone 6s or above
Speak and read English
Be able to participate for up to 6 months
The study description mentions that you will be provided an Apple Watch of undisclosed generation, and must fill in weekly surveys with the Apple Research app on your iPhone. It's a fairly long-term study, too, as you need to be committed for at least six months. The researchers will test you for COVID-19 in the beginning and if any respiratory illness occurs during the course of project in order to match the Apple Watch readings to your eventual condition to gauge its predictive abilities.
The end goal of the Apple Respiratory Study is to "
see if the information collected by the Apple Watch and iPhone can detect early signs of respiratory illnesses like COVID-19
." Needless to say, your personal data will be kept confidential throughout the process, and only aggregated data will be used in the inevitable mining and analysis of the resulting data points. Why the Apple Watch, though?
Apple Watch 6 pulse oximeter feature COVID-19 prediction potential
You may have heard, but oxygen saturation is one of the indicators that your lungs may be giving up the ghost amidst the coronavirus pandemic. While doctors are trained to immediately put you on oxygen or worse, on a ventilator, after a certain threshold is reached, for coronavirus patients that number seems to be much lower than usual, according to emergency physician Dr Richard Levitan in a
New York Times op-ed
.
Here are the Apple wearable features that may have attracted the attention of COVID-19 researchers:


Brand new Watch 6 sensors
10 seconds to a first blood oxygen readout
Blood Oxygen App
Periodic measurements in real time
Alerts for low blood oxygen
With the introduction of Apple's latest
watchOS 7
system on the
Watch Series 6
it basically provided what smartwatches from Huawei and even smart bracelets from Fitbit and others have had for a while now - blood oxygen saturation measurements with the new Blood Oxygen App.
From а pulse meter, through an oximeter to VO2Max activity reports, the
Apple Watch Series 6
now has plenty of sensors to cover all the basics, and then some. The new blood oxygen sensor is made up of four LED clusters and four photodiodes. Incorporated into the completely redesigned back crystal, this new sensor works in concert with the Blood Oxygen app to determine your blood oxygen level.

The oximeter takes only 15 seconds to record the first measurement, and can be set to monitor your levels in real time, yet in a battery-saving mode, and the stats include min/max rate for the day so far, as well as alerts if it goes dangerously low. With COVID-19 patients sometimes looking active and alert with blood oxygen levels down to the fiftieth or sixtieth percentile, a Watch warning feature may prove to be quite the bonanza for health professionals.