Kuo says Apple stops work on its Wi-Fi/Bluetooth chip to focus on 3nm Apple Silicon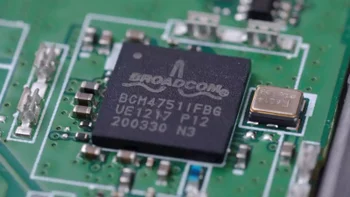 It was less than two weeks ago when we heard that
Apple was going to replace Broadcom's chip
that handles Wi-Fi and Bluetooth on the iPhone.
Apple
hoped to replace this component with a chip it designed itself. Apple planned to have this homegrown silicon ready in time for the 2025 iPhone 17 line but according to TF International's Ming-Chi Kuo, the man who knows the Apple cafeteria's soup of the day years in advance, the company has stopped development on its Wi-Fi chip.
In a tweet that was posted today, Kuo wrote, "
Apple has halted developing its own Wi-Fi chips; Broadcom is the biggest winner of the iPhone 15's upgrade to Wi-Fi 6E and the leading beneficiary of the Wi-Fi industry-standard upgrade to Wi-Fi 6E/7 with higher ASP."
Developing a Wi-Fi/Bluetooth chip is "more challenging than just a Wi-Fi-only chip," Kuo says

Kuo says that the issue Apple has run into is being able to develop a single component that supports Wi-Fi and Bluetooth connectivity in a single chip. Kuo adds, "From a design standpoint, developing a Wi-Fi+Bluetooth combo chip is more challenging than just a Wi-Fi-only chip. Since most of Apple's products use the combo chip, it would be even more challenging to replace Broadcom's combo chips with its own if Apple decides to do so."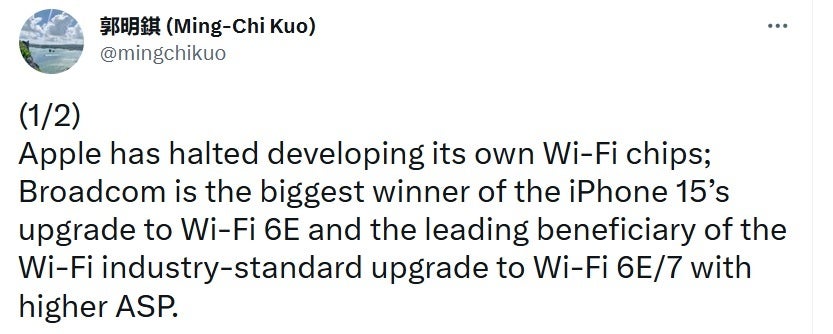 Top analyst Kuo says that Apple will continue to use Broadcom's combo chips for Wi-Fi and Bluetooth connectivity
Apple still expects to complete the development of its 5G modem chip which was expected to replace the Qualcomm Snapdragon 5G modem currently employed by Apple. Both Apple and Qualcomm actually expected Apple to debut its 5G modem with the iPhone 15 series this year. But it seems that Apple could not get around (at least not yet) a couple of Qualcomm patents. In addition, Kuo cites ""insufficient development resources" for the delay. Apple is still expected to eventually use its own 5G modem starting with some future iPhone series.
Kuo says that Apple is focusing its engineering resources on developing its Apple Silicon for TSMC's 3nm process node. He says that the "world's most advanced 3nm processors" from Apple will undergo mass production possibly as soon as this year. Currently, Apple's M1 and M2 chips are produced using TSMC's 5nm process node. The A17 Bionic could be the first chip used by the tech giant to be produced using the 3nm process.
The lower the process node number, the higher the transistor count of a chip. More transistors increase the performance and energy-efficiency of a chip. For example, the 7nm A13 Bionic chipset on the iPhone 11 series contained 8.5 billion transistors. The 5nm A16 Bionic SoC powering the iPhone 14 Pro models carry nearly 16 billion transistors.

The reliable analyst writes, "The slowdown of processor upgrades is unfavorable to the sales of end products (such as A16 and M2 series chips). Therefore, to ensure that the world's most advanced 3nm processors can enter mass production smoothly in 2023–2025, and the performance upgrade and power consumption improvement can significantly improve vs. predecessors, Apple has devoted most of its IC design resources to the development of processors." Kuo also says that Apple's development of the Wi-Fi/Bluetooth chip was even worse than its work on the 5G modem chip.
Kuo says that Broadcom is the big winner of Apple's decision to stop development on its Wi-Fi chip

Qualcomm, which expected to see its share of new iPhone models using its modem drop from 100% to 20%, is now back at 100% for the time being. Qualcomm stockholders were extremely happy with this news. And today's tweet from Kuo warmed the cockles of the hearts of Broadcom stockholders whose shares soared $12.90 (or 2.2%) in regular trading today and closed at $598.58. Qualcomm's stock also rose 2.13% today.
Dissecting Kuo's tweet, the analyst points out that Broadcom is "the big winner" of Apple's inability to develop the Wi-Fi/Bluetooth chip because it will be selling the new Wi-Fi 6E chips for the iPhone 15 line at a higher average selling price. As we noted earlier today, two analysts from Barclays, Blayne Curtis and Tom O'Malley, expect Wi-Fi 6E to be employed on the iPhone 15 series or perhaps just the iPhone 15 Pro and iPhone 15 Ultra. Wi-Fi 6E is faster, more dependable, and can handle more users simultaneously.