Apple's 10.5-inch iPad Pro is on sale at a $250 discount in 256GB variant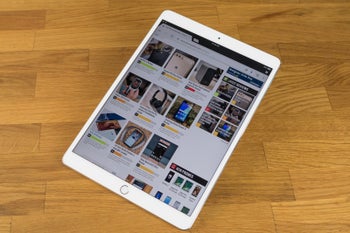 While Apple is currently selling three
iPad Pro
variants, it's hard to justify the purchase of a
2017-released 10.5-incher
over a
hot new 11-incher
that's somehow shorter and thinner, not to mention significantly faster, cooler, and only 150 bucks pricier.

But that's where discounts come in. Obviously, you won't find those at Apple Stores, with Best Buy instead shaving a cool $250 off the list price of a 10.5-inch iPad Pro configuration supporting just Wi-Fi connectivity and accommodating a whopping 256 gigs of data internally.

Typically available at $799.99, which just so happens to be the list price of a 64GB iPad Pro 11 as well, this iPad Pro 10.5 model will set you back a more palatable $549.99 through Saturday.

In fact, they're so high that this 256 gig version is a full $100 cheaper at Best Buy right now than its 64GB sibling when purchased directly from Apple. And yes, you can choose whatever paint job fits your personal preferences best from a grand total of four color options - space gray, silver, gold, and rose gold.
Praised back in 2017
for its "laptop-competitive" performance, excellent battery life, rich sound, beautiful screen, and even a pretty great camera, the 10.5-inch iPad Pro is obviously not as eye-catching as its successor, but it probably holds its own in every single aforementioned aspect.

Can you do better? Of course. But the price is definitely right (for the time being) to justify a few minor compromises.