Android 9.0 Pie brings 157 new emoji designs to the table, also revising many old ones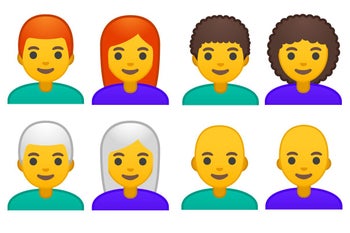 The newly released
Android 9
(or 9.0)
Pie version
of the world's most popular mobile operating system is so feature-packed that Google isn't listing any emoji changes among its top improvements, revisions, and additions.

In contrast, the official Android 8.0 Oreo webpage features a "fully redesigned" emoji set as an essential add-on, alongside Autofill, Smart text selection, Picture-in-Picture, Notification Dots, and Android Instant Apps functionality.
Android Pie is all about "harnessing the power of artificial intelligence" with Adaptive Battery and Adaptive Brightness, as well as App Actions, Slices, intuitive gesture-based navigation,
your "digital wellbeing"
, and various privacy and security enhancements. But a whopping 157 new emojis are also supported on
Pixel
devices and the
Essential Phone
, including ideograms depicting red-haired men and women, people with curly hair, silver hair, and bald people.

Both DC and Marvel fans should be pleased to see the Superman and Mister Sinister-inspired superhero and supervillain emoji designs in the final version of Android 9, while fresh additions in the animal, foodstuff, body parts, science objects, and household paraphernalia categories include kangaroo, lobster, badger, mango, tooth, lab coat, broom, skateboard, and firecracker representations, among many others.
We're not quite sure what you'd want to express by way of a safety pin or flying disc emoji, for instance, but it's easy to understand why Google is ready to make the
toy squirt gun
standard at last in lieu of the controversial (and serious-looking) pistol.

Another important change that will either silence criticism or cause a stir is the adoption of gender-inclusive designs for family and "couple with heart" emojis. These no longer suggest it's obligatory for a man and woman to be in love and raise children, which a certain part of the US political scene may find infuriating.
Keep in mind it's probably going to
take quite some time
to receive these emoji updates (and many more) with Android Pie, depending on your
device's manufacturer
and carrier, while Samsung's phones are not eligible for this particular revision to begin with due to their use of a proprietary emoji font.