Android 15 will be a plain vanilla release
20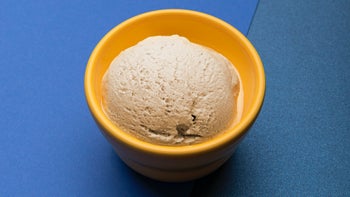 Remember when each Android build was known more by its dessert-based nickname than its build number? Those were exciting times when we wrote about Froyo, Cupcake, KitKat, and Jelly Bean. While Google stopped making a big deal about the dessert nicknames after Android 9 (which was Pie), internally the dessert names kept coming.

Remember that the dessert selected had to start with the letter that represented that year's Android release. For example, when Android 1.5 was released in April 2009, it was the third major release of the operating system which means that it was also known as Android "C." So the dessert nickname for that build was Cupcake. The following release, Android 1.6, was also known as Android "D" allowing Google to tack on the Donut nickname.
Let's review the history of the Android dessert nicknames:
Android 1.5: Cupcake
Android 1.6: Donut
Android 2.0: Eclair
Android 2.2: Froyo
Android 2.3: Gingerbread
Android 3.0: Honeycomb
Android 4.0: Ice Cream Sandwich
Android 4.1: Jelly Bean
Android 4.4: KitKat
Android 5.0: Lollipop
Android 6.0: Marshmallow
Android 7.0: Nougat
Android 8.0: Oreo
Android 9: Pie
Android 10: Quince Tart
Android 11: Red Velvet Cake
Android 12: Snow Cone
Android 13: Tiramisu
Google
used to make a big deal about the dessert nicknames and promoted them by ceremoniously rolling out to the Googleplex lawn a new statute representing the latest Android dessert after each release. This tradition ended after Android 9 and last year,
the statutes were removed
. For the releases of Android 4.4 KitKat and Android 8.0 Oreo, Google made deals with the appropriate food manufacturer to help promote Android.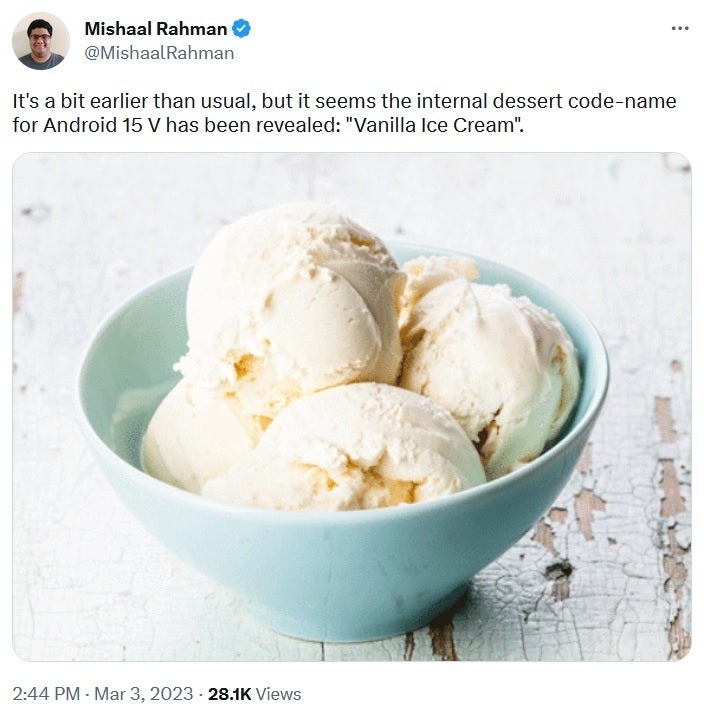 Android 15 V will be known internally as Vanilla Ice Cream
The upcoming Android 14 build is
known internally inside Google as "Upside Down Cake."
And tech journalist
Mishaal Rahmaan
has revealed through a tweet that for 2024, the dessert name for Android 15 V will be Vanilla Ice Cream. This isn't the first time that Google has turned to the frozen dairy treat to be an Android dessert nickname. Released back in October 2011, Ice Cream Sandwich (Android 4.0) was the ninth major Android version.

Vanilla Ice Cream is already being used by the AOSP
By 2025, Google might have a problem with Android 16 X. And two years after that, Google will have to deal with Android 18 Z. Possible desserts include Xuixo for Android 15 (it's "a deep-fried cylindrical pastry filled with crema catalana, usually served coated in granulated sugar."). For Android 17, Google could return to the KitKat and Oreo days by using Hostess Zingers. These are iced creme-filled snack cakes.