Android 13 QPR2 Beta 2 is now available for Pixel phones
Android 13 QPR2 Beta 2 (T2B2.221216.006) is now out for eligible Pixel devices enrolled in the Beta Program. This update includes the January security patch, bug fixes, and performance/stability improvements.
Google has released
the second beta of the second Quarterly Platform Releases (QPRs) to update the platform on a quarterly basis with fixes and improvements. This update follows just a week after
the Pixel January update
that squashed some bugs but also introduced
a new Bluetooth and Android Auto bug
.
Although hoped by those waiting for a fix to the Bluetooth issue, QPR2 Beta 2's
release notes
do not address that, and instead lists
the following as the issues that have been resolved in Android 13 QPR2 Beta 2
:
Fixed an issue with the System UI that sometimes caused the Home screen to become unresponsive.
Fixed an issue where, after switching back to Normal video capture mode from Slow Motion mode in the Google Camera app, the app continued capturing slow-motion video if the capture speed was changed between 1/8x and 1/4x while in Slow Motion mode.
To those who are unfamiliar with QPR betas and how they differ from developer previews and regular betas, QPR builds are safe for general use and include "the next round of bug fixes and improvements to stability and performance," as well as user-facing features that are typically rolled out to Pixel devices as part of Feature Drops.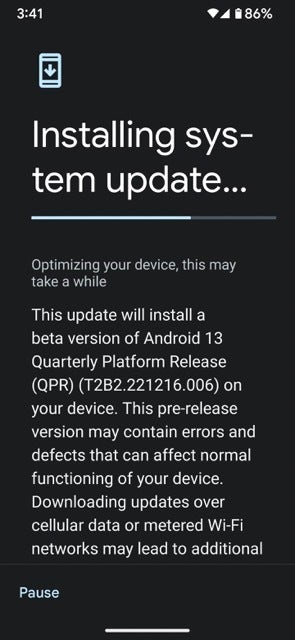 Android 13 QPR2 will be stable in March, with one more beta release scheduled for next month. If you are interested in participating, the beta can be installed over-the-air on the Pixels 4a, 4a (5G), 5, 5a, 6, 6 Pro, 6a, 7, and 7 Pro by enrolling your device on the Android Beta for Pixel program. Once enrolled, after a few minutes, you will be able to update by going to
Settings > System > System update > Check for update.