Google Pixel January update causing Bluetooth and Android Auto issues for some
12
Google Pixel owners are reporting what appears to be a bug tied to the January 2023 security update that affects Bluetooth and Android Auto connectivity. Although not confirmed that it is due to this update, the timing of the reports seems to corroborate this.
The Pixel January update
began its rollout on Tuesday and was listed to carry several fixes addressing issues with the fingerprint scanner on the Pixel 6a and 7a, a bug with the Pixel 7 and 7 Pro display not waking from sleep, issues with retaining the correct device orientation, and a bug that prevented devices with BLE (Bluetooth Low Energy) from pairing, among others. That specific BLE bug fix is suspected to have caused the issue users are currently experiencing.
The first reports surfaced via a
several
posts
on the Google Pixel subreddit and were later reported on by 9to5Google. The specific issue is that when users attempt to connect to their car's Bluetooth, an error message pops up that reads "Problem connecting. Turn device off and back on."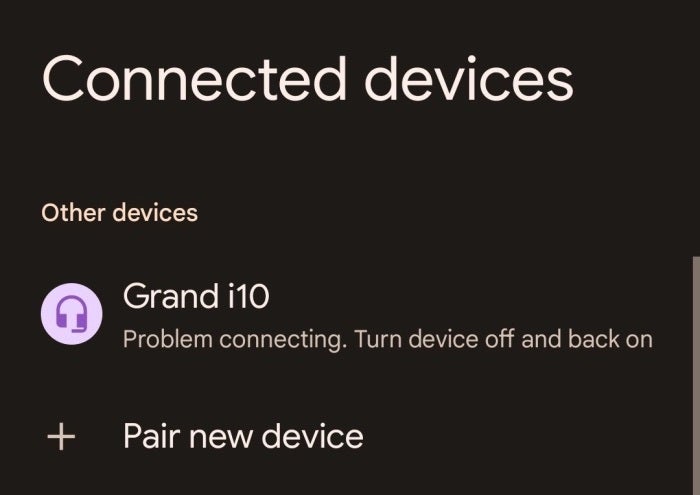 via 9to5Google
The issue does not appear to be specific to any car brands as the reports name several different ones. It also does not appear to affect any specific Pixel models, but, of course, the Pixel 6 and 7 series are most commonly named since those are the most recent releases.
In addition to those widespread Bluetooth connectivity issues, another concern relates to Android Auto where some users are reporting that they are unable to connect. Some of the troubleshooting users have reported having done includes wiping the data and cache from the Play Services and Android Auto apps.
However, it appears at this point that either Google or T-Mobile has already noticed the issue, as the
January update seems to have been halted
on Pixels with a T-Mobile SIM card, even if unlocked. I happen to have my Pixel 7 Pro on T-Mobile and have yet to receive the January update. It is my guess that this delay may be related to these Bluetooth and Android Auto issues.
Google has yet to officially acknowledge the issue, but I believe it is safe to assume that a bug fix should be in the works. I just hope that we don't have to wait until next month's security update to be pushed in order to get said fix on our devices.