Amazon's 2021 Kindle Paperwhite is on sale at a cool discount in two new colors
We may earn a commission if you make a purchase from the links on this page.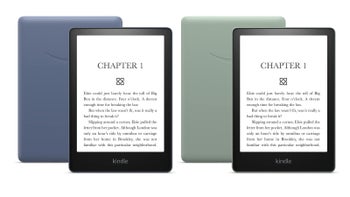 If you've been interested in picking up a
2021-released Kindle Paperwhite
for a while but were not particularly impressed with the single and rather boring black color this e-reader came in until now, it might finally be time to rejoice and pull the trigger.
That's because you can purchase the "11th Generation" device in a grand total of three different hues starting today, and believe it or not, the new "Denim" and "Agave Green" models are on sale at a cool discount right off the bat.
Instead of paying the "typical" $149.99 for a "regular" Kindle Paperwhite with 16GB internal storage in these two colorways, you're currently looking at saving a nice 40 bucks. An even higher $50 discount applies to the 32GB Kindle Paperwhite Signature Edition with wireless charging support and an auto-adjusting front light in the same two chromatic options, while the old black versions are weirdly enough stuck at their list prices.
Of course, the Kindle Paperwhite has been marked down before, but that doesn't make the introductory Denim and Agave Green offers feel any less special, trumping quite a few past price cuts exclusive to the black flavor.
This is technically the fifth (and not the 11th) Kindle Paperwhite ever released by Amazon, in case you're wondering, and if history is any indication, a sixth edition is likely to come out at some point in 2024.
Until then, you can opt for this product if you dig its flush-front design, IPX8 water resistance, adjustable warm light, and large 6.8-inch display or you can settle for the newer, slightly cheaper, and smaller 6-inch Kindle without any of those things.
Said
entry-level Kindle 11
, mind you, was released just a few months ago in both black and denim colors, while the much costlier
Kindle Scribe
with a built-in pen is still available in a single "Tungsten" paint job.