The world's first Chrome OS tablet is widely available in the US at last
1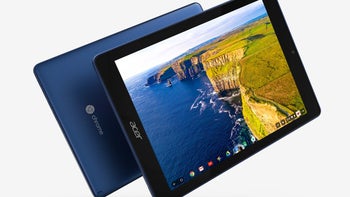 Back when
Acer unveiled the world's first Chrome OS-powered tablet
, confusingly named the Chromebook Tab 10, we were told to expect a commercial release in North America as early as April.

But the months went by, and the classroom-friendly slate was stuck on pre-order across many trusted US retailers. Some were able to discreetly sell a few units before running out of initial inventory, while others simply couldn't revise the gadget's mysterious "coming soon" status.

Luckily, that appears to be behind us at last, with Acer's official US website listing a quartet of authorized sellers capable of fulfilling your orders in a timely manner. Unfortunately, the recommended $330 price has exploded for at least one Amazon reseller, which has the audacity of charging an arguably exorbitant $462 for the 9.7-inch tablet at the time of this writing.

Not exactly a mainstream iPad contender, this bad boy does sport a more than respectable 2048 x 1536 QXGA screen. Its key selling point is probably the simple, brisk and "education-designed" Chrome OS software, paired with 4GB RAM and 32 gigs of internal storage space. That should easily cover the multitasking and digital hoarding needs of most students and casual tablet users, while the hexa-core Rockchip processor sounds perfect for maximizing battery life.

In fact, Acer is advertising up to 9 hours of autonomy between charges, which is not bad at all for the sub-$350 category. Oh, and the Chromebook Tab 10 also comes standard with a Wacom EMR stylus boasting "natural" writing and drawing capabilities. All in all, this is certainly not a bad deal, whether you understand the utility of a Chrome OS tablet or not.