Acer announced the Chromebook Tab 10 – the first Chrome OS tablet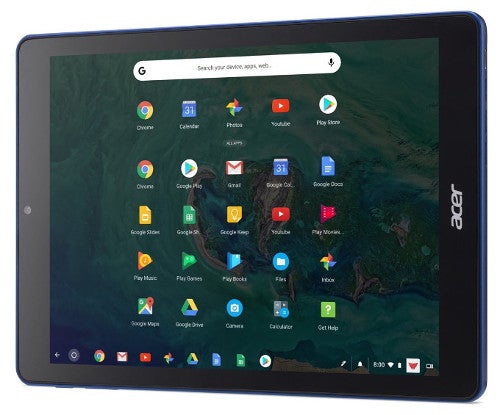 Chrome OS is one of the two operating systems (you may have heard about the other one – Android) developed by Google. The system features an interface, based on the Chrome web browser, making it perfect for web applications. Chrome OS made its debut back in 2011 on Chromebook laptops, launched by Samsung and Acer, and has been laptop-exclusive since then, but it seems like it will finally make its debut in tablet land. Ladies and gents, Acer presents to you the first Chrome OS tablet – the Chromebook Tab 10.
The Chromebook Tab 10 has a 9.7" display with a 2,048 by 1,536 resolution, making it one of the tablets with a bigger screen on the market. The Tab 10 has a 5 MP rear and 2 MP front-facing cameras – yeah, we should not expect the best images, but then again, tablets have never excelled at taking pictures. Deep-sea blue has been the color of choice for the Tab 10, although there might be more colors to come in the future.
A good tablet needs some good hardware and Acer knows it. The Tab 10 has a shiny OP1 processor – a hexa-core System-on-a-Chip (SoC) developed by Google-owned Rockchip. This chipset is also found in the Samsung Chromebook Plus, so we can expect nothing but good performance. Storage wise, 32 GB + a micro SD card slot will probably do the trick. There's also 4 GB of RAM onboard, so you can multitask freely. USB type-C and a 34 Wh battery promise up to nine hours of use before recharging. The Tab 10 has stylus support and even comes with one from graphic-tablet maker Wacom.
Acer's announcement of the Tab 10 is most likely connected to another event, hosted by Apple. Today, the Cupertino company
will hold an event, labeled "Let's take a field trip"
at the Lane Tech College Prep High School in Chicago. The invitation for the event reads "
Join us to hear new creative ideas for teachers and students,
", which suggests it will be education-oriented.
Currently, schools in the US are mostly using Chromebook-based laptops for their educational purposes, but Apple's expected announcement of a cheaper iPad will most likely try to capitalize on the school market. Acer's announcement of the Tab 10 is essentially throwing down the glove at Apple and only time will tell which company will prevail.
The Acer Chromebook Tab 10 will be available next month in North America, with a global release expected in May. Priced at $329, it is definitely on the expensive side, considering most Chromebooks are under $300, but it's the first Chrome OS tablet and you know innovations are expensive.