Ziphius aquatic drone hands-on
1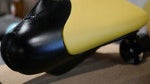 Being that it's officially summer and all, the thought of cooling down and relaxing in a pool would be an idea that would cross most of our minds, seeing it's a great way to make those long, warm summer days go by smoothly. Now, imagine yourself floating in the water chilling on a tube or something similar, when all of a sudden, this odd shaped contraption comes along very close to you. Needless to say, it's hard to mistaken it for something menacing like Jaws, but the
Ziphius aquatic drone
has an interesting premise to say the least.
For some reason, the Ziphius has a
very cute quality to its appearance
. In fact, it somehow reminds us of that lovable Psyduck in the Pokemon cartoons, as it clearly resembles the confused character with its duck-like looks and matching yellow paint job. In reality, though, the Ziphius is a
remote controlled boat
that features motors and an
adjustable camera
. Skimming the surface of the water, you can use the Ziphius to do some surveying, but it's not something that can actually dive and stay under water. Regardless of that, this smartphone controlled drone will surely keep people entertained, as it relies on an app to provide users the ability to control the Ziphius, and view subjects with its on-board camera.
As of right now, the Ziphius is being featured on Kickstarter, where it's trying to garner a goal of getting a total pledge value of $125,000. From the looks of it, a pledge of
$195
or more will grant you a unit of your own. Interestingly, during our quick look, we also saw another frame that would accommodate a nice cold bottle of beer – so maybe it'll act like some sort of pool side concierge service.
source:
Kickstarter