ZeroLemon launches insane 10,000mAh battery case for the Galaxy Note 3
21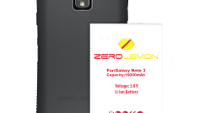 It's no news that the 3200mAh stock battery of the Samsung Galaxy Note 3 stores more than enough juice for a day or two of moderate usage. It faired pretty well in our custom script battery test, which replicates the power consumption of typical real-life usage. Still, there are some folks out there who'd love to reminisce about the old days when they owned a feature phone and had to charge it once or twice a week. For all those who own Samsung's latest phablet and find its battery life unsatisfactory, ZeroLemon has come up with a $59.99 solution – the 10,000mAh Tri-Cell Extended Battery case set, which is claimed to be the world's largest capacity battery with NFC support on board.
In order to use this custom ZeroLemon accessory, you will have to take out the stock battery of your Note 3 and put the ZeroLemon one in its place. Due to its enormous size you can't just put your stock rear cover back on – you'll have to use the universal fit case which is included in the ZeroLemon set. Well, yes, this will make your Note 3 noticeably thicker, but the 10,000mAh battery will most probably double or even triple the battery life of your Samsung phablet.
The Note 3 is not a small device, but when outfitted with the ZeroLemon 10,000mAh battery and case, it looks quite huge. Fortunately, the set comes with a belt clip holster, which doubles as a kickstand. The ZeroLemon case also offers some improved resilience for the battery and the Note 3 itself. The case comes with double polycarbonate and a single thermoplastic polyurethane protective layers, which will allegedly fully absorb the major impacts your device might experience. There are built-in protective tabs for the SPen stylus and the microUSB port on the bottom as well.
The ZeroLemon 10,000mAh Tri-Cell Extended Battery case set is currently available on Amazon for $59.99 and comes with a 180-day warranty (link provided at the source). It is compatible with all versions of the Samsung Galaxy Note 3 - N9000, N9005, Sm-n900t, Sm-n900w8, Sm-n900p, Sm-n900v and Sm-n900a.
source:
Amazon
,
ZeroLemon
via
GSMArena