Your daily Versa fix
12

More info and pics were leaked today of the
LG Versa
, but we're still waiting on a solid price for the
March 1st
release. Features include a 2MP autofocus camera with flash, detachable QWERTY keyboard (included), HTML web browser, EVDO Rev A, microSDHC support up to 16GB, Bluetooth 2.1, OTA firmware updates, 1000 entry phonebook, and speakerphone. The display is 3" diagonal 480x240 pixels and supports up to 262K colors. Overall dimensions are 4.16"H x 2.07"W x 0.54" D and has a weight of 3.81oz. The retail package will include the Versa phone, QWERTY keyboard with stylus, wall/USB charger, and user manual.
Here's what Verizon's InfoManager says:
The new LG Versa is the runaway favorite for MVPMost Versatile Phone. Thanks to next-generation technology, the home screen is transformed into a sizzling, animated 3D user interface. Quickly customize up to 3 different home screens with your favorite features, apps, or contacts. Make your move...the built-in accelerometer rotates screens automatically from portrait to landscape or controls games using rotation movements. The slim, sleek bar design with an elegant chrome border stands out from the crowd. Also at your fingertips: a 2.0 megapixel camera with flash and camcorder, attachable QWERTY keypad, integrated music player optimized with Bluetooth stereo capability, microSD memory port, visual voicemail, HTML web browsing, and RSS feed support. If youre looking for smart technology, sophisticated style and the ultimate in versatility, take a good look at the new LG Versa.
LG Versa Preliminary Specifications
Thanks to a friend for sending this in!
Optional Game Pad: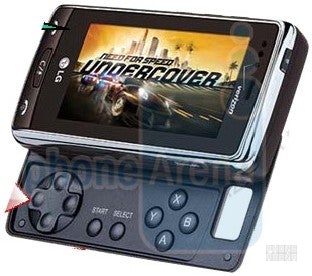 Recommended Stories