YouTube client disappears in iOS 6 beta 4
40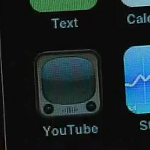 One of the original new features that made the Apple iPhone unique when first launched was the YouTube client that came on the phone. At the time,
it was so unusual
that Apple even pointed that out in its original ad that focused on the YouTube feature on the handset. "
Maybe the biggest surprise,
" went the ad, "
is finding YouTube on your phone
." And who could forget the skateboarding bulldog?
"Our license to include the YouTube app in iOS has ended, customers can use YouTube in the Safari browser and Google is working on a new YouTube app to be on the App Store."-Apple
Once YouTube became a staple on the Apple iPhone, other manufacturers tried to show off YouTube capabilities on their phones. HTC offered a YouTube client on the HTC Touch Diamond and the HTC Touch Pro which both ran on Windows Mobile. Other models were able to direct users to the
mobile version of YouTube
. When Android was launched, the OS featured a YouTube client that improved on the quality of the clips over 3G. Apple was supposedly going to offer high quality YouTube playback over 3G in iOS 5, but that feature never made it to the final version of the OS.
Apple removed Google Maps from iOS this year,
replacing it with its own Maps application as part of a process to remove Google branded applications from iOS. But the removal of Google's video clips site was for another, more innocent reason. Apple said that the reason for the removal of YouTube was because its
license to include YouTube on iOS has expired
. Still, YouTube hasn't completely disappeared for Apple iPhone and Apple Pad users. Those iOS users who want to view YouTube clips can use the Safari browser and go to the mobile YouTube site and Google is said to be working on a YouTube app for the App Store, says the Cupertino based company.
Other changes in OS 6 beta 4 include a request for an iCloud password during the initial sign in, new security controls for Bluetooth devices that share data, and Passbook now has a link to the App Store so that users can find which apps work with the application. In addition, the Shared Calendar Alerts toggle has been moved to the bottom of mail, and Apple's new Maps application has been improved and is now quicker with improved map data and rendering. One way streets now have a blue arrow showing the correct direction, and labels show more address numbers.
source:
iPodnn