YouTube VR app for Daydream will keep the pesky real world from interrupting your videos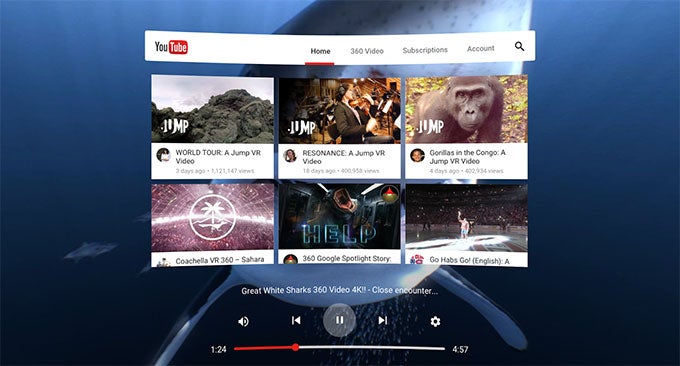 One of the more interesting things about
Google's new Daydream VR project
, announced this week at the company's I/O conference, isn't just that Daydream will provide smoother VR visuals, improved tracking, and a standard interface for the controllers we'll use to interact without its virtual worlds. We're also seeing a focus on keeping users immersed in their virtual experiences by giving them ways to easily launch apps and access content from right within Daydream – no pulling off your headset, removing your phone, and fiddling with an app just to bring up what you want to check out next in VR. Now Google's explaining how that Daydream-style UI will help super-charge YouTube's VR experience, as the company announces plans for a YouTube VR app.
YouTube's already a pretty friendly place for VR content
, whether we're talking about 3D video or 360-degree panoramic shots. And while the app's already made some initial stabs at implementing a UI that works from right within Cardboard's first-person view, users are all too often dumped out of that 3D view into the standard 2D app.
With this new YouTube VR app, you won't just be able to watch videos in Daydream, but also search for new clips, interact with playlists, and even call upon voice search support – all from within its 3D UI.
And while 3D and 360-degree videos will clearly be the highlight here, Google's not limiting the YouTube VR app to only those videos really optimized for it, and you'll also be able to access regular old 2D videos on a floating virtual display.
In a lot of ways this project sounds more like the logical extension of YouTube's existing Cardboard enhancements, but fully embracing Daydream with a new app like this could be the perfect way to make sure that focus stays just as sharp going forward.
source:
YouTube