Here's why Pink Floyd's Dark Side of the Moon sounds better now on YouTube Music for Android
3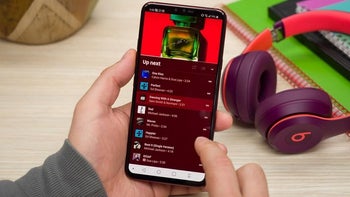 According to a couple of Reddit posters
(via
Android Police
) gapless playback is now available for YouTube Music for Android. Already found on some streaming music sites like Spotify, this is a feature that allows two consecutive songs on an album being streamed to maintain the same gap in time between them as found on the original album. In other words, if the end of one song on a concept album blends into the start of the next tune, when this album is streamed on an app supporting gapless playback, it will keep that same space between the two songs. For example, let's say you're streaming the Beatles'
Sgt. Pepper
album. The chicken cluck heard at the very end of
Good Morning, Good Morning
segues into the opening guitar licks of the
Sgt. Pepper reprise
on the vinyl. With gapless playback, this segue is maintained when streaming the album.
With some streaming apps, half a second or more is required to get the next song file loaded and ready to go. For gapless playback, the next song needs to be decoded before the track currently playing is completed.
The initial thread on Reddit was posted by JoshYx, who noted that he was able to hear the gapless playback between the songs
The Mind's Eye
and
Portals
on the album
Visions
by Haken. His version of YouTube Music is 3.35.51. However, a Redditor using the handle agentanthony noted that his YouTube Music app, with the same version number, was not offering gapless playback on his
Pixel 2
. And even when the app was updated to 3.37.55, he still was hearing the gaps on albums like
Dark Side of the Moon
and
The Wall
. However, when he streamed the same two albums on his
11-inch Apple iPad Pro
using YouTube Music version 3.37.3, they both had gapless playback.
Since several Android users complained that they were not getting gapless playback on YouTube Music despite having the latest version of the app, it would appear that this feature is coming to Android users via a server-side update. With such an update, to quote Lennon-McCartney from the aforementoned
Good Morning, Good Morning
(with one major change), "there's nothing to do it's up to Gooooooooooo-gle." All you can do is to stream those Pink Floyd albums on YouTube Music from time to time to see if gapless playback has hit your Android device.