You draw me a dragon, I counter with kangaroo - Samsung gifts customized Galaxy S III to a loyal fan
16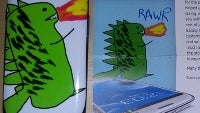 Samsung Canada got playful with a loyal fan of the brand after a heated drawings exchange on Facebook gone viral. The guy, named Shane, did a wall post listing all the Samsung gear he's got - a TV, a laptop, and a
Galaxy S
- asking for a free Galaxy S III to replace his golden oldie phone. In return, he gave them a picture of a dragon he drew all by himself, and it shows.
Samsung's marketing guys shot him down gently, of course, but appreciated the effort, and countered with a picture of a kangaroo on a unicycle (?!), drawn just for him. Those funny doodles quickly went viral, and Samsung got so much publicity with this stunt, that Team Canada decided to gift Shane with the original request.
He was sent a
Galaxy S III
with that very same dragon he drew, etched on the body of the phone, and on the box, too. Not only that, but the wallpaper matches the drawing on the front, for a nice little green dragon, that says "Rawr!". Cool.
Recommended Stories