You can now get a white Nexus S supporting AT&T's 3G bands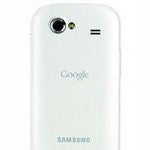 Looking for an AT&T-branded NexusS? Well, you won't find this exact handset subsidized on AT&T,but you can easily get an unlocked Nexus S in its black or whiteversion for nearly $600. Unlike previous GSM versions,which came with EDGE support only, this one fully supports the carrier's850/1900MHz 3G bands and if you're sold on the idea, you can skip back to theNegri Electronics' offer in the link below.
The Nexus S was Google's flagshiphandset for Android 2.3 Gingerbread, which should translate in timelysoftware updates in the future. The handset comes with refinedvanilla Gingerbread, a snappy 1GHz Hummingbird chipset and 16 gigs ofmemory. It also features a slightly curved 4-inch screen, whichimproves on the viewing experience and naturally protects your screenfrom scratches when you place the phone with the display lookingdown. But you'd never know about the real performance of the Nexus S, if you didn't check out an in-depth review like this one, would you?

source: Negri Electronics (white, black)via Engadget