You can (almost) use the Samsung Galaxy S6 Active as a hockey puck
16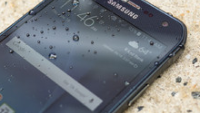 A few months after launching the Galaxy S6 and the Galaxy S6 edge, Samsung unveiled a rugged version of its flagship smartphone. Called the
Samsung Galaxy S6 Active
, the AT&T-exclusive handset has almost the exact same features and hardware as the standard version of the Galaxy S6, but keeps all of them wrapped in a shock and water resistant body. During our
Samsung Galaxy S6 Active review
, we found that it's an excellent performer with great endurance.
If you're wondering just how resistant the Samsung Galaxy S6 Active really is, the fellows from Unbox Therapy have just posted the results of a unique drop test. Essentially, the Samsung Galaxy S6 Active was used, for extended lengths of time, as a hockey puck. First, the hockey teams warmed themselves by passing the puck Samsung Galaxy S6 round, then used it for some one-on-one situations, proceeded to shoot the phone in full force, and then used it for a de-facto hockey puck during a short scrimmage.
As you can notice, the Samsung Galaxy S6 Active behaved beautifully in these extreme environment, managing to survive both the passing and the shooting test. Sure, the handset did get destroyed during the full-blown scrimmage, but that's to be expected from any fine electronics device no matter how rugged.
What do you guys make of this test? Did you expect the handset to escape fatal damage for as long as it did?