YotaPhone 2 hands-on
4
The new YotaPhone 2 is a phone like no other: it packs a screen on the front, but also on the back. The rear display is an e-ink one, like what's used in e-readers, and you can use it for a surprising variety of things. The biggest plus? It's easy to read out in the sun, and it consumes a fraction of the power of a traditional color display.
This dual-screen design is the major focus, while for all else the YotaPhone 2 does not differ much from the upper mid-range Android pack: a 5" 1080p AMOLED display, an 8-megapixel camera with no support for 4K, and a Snapdragon 800 system chip. How does the YotaPhone 2 feel in the hand, though? We answer this and more right below.
Design
With a rounded body and fairly compact dimensions, the YotaPhone 2 fits pleasingly well in the hand. It's an all-plastic affair, but since there is a screen on both the front and the back, the amount of visible plastic is really minimal. The phone measures 5.67 x 2.74 x 0.35 inches (X x Y x Z), and weighs a not too heavy 4.94oz (140g).
Display: 5" AMOLED up front, 4.7" e-ink on the back
The big focus in the YotaPhone 2 is on its dual display setup and what you can do about it. It turns out, that for many of the casual checks that we do to see the time, weather, mail and messages, the e-ink screen does a perfect job and you'd need to fire up the main screen surprisingly rarely.
Still, the 5" 1080 x 1920-pixel AMOLED screen features vivid colors at first sight, sporting those signature deep blacks and nice contrast that AMOLED is known for. The back 4.7" panel sports a resolution of 540 x 960 pixels, which works out to pixel density of a decent, but not great 234ppi (practically speaking, you can see some pixelization).
Interface
The YotaPhone 2 runs on Android 4.4 KitKat in a pretty clean, near-stock version save from all the tweaks for the secondary display. We won't go over the well-known Android interface, but instead run through the main functions that can be transferred to the secondary screen. You customize the experience by adding widgets to it, so that you can say add a favorite contacts widget and quickly dial from it, and you can also send messages, mails, and more.
The one function where the secondary screen truly shines is reading (and browsing to some extent) - you can read a book on it, never worrying about draining your phone's battery. This truly seems like a phone inspired by the Russian realities, where people take long subway rides and everyone is glued to their e-reader. The YotaPhone 2 allows you to carry just one device for this.
Processor and Memory
The YotaPhone 2 carries flagship ambitions but launching at this time with Snapdragon 800 and 2GB of RAM makes it feel a bit outdated when other top devices come with Snapdragon 805 and are soon to ship with Snapdragon 810 versions.
However, performance does not feel slow in any way, and the device works fairly well in daily tasks. The 1080p display is not too big of a workload (in comparison with Quad HD, for instance), so you can also play recent games without worrying about performance issues. One, however, can't deny that having Snapdragon 800 does not feel future-proof.
Internal storage comes in at the ample 32GB, but you cannot expand on this as the phone lacks a microSD card slot.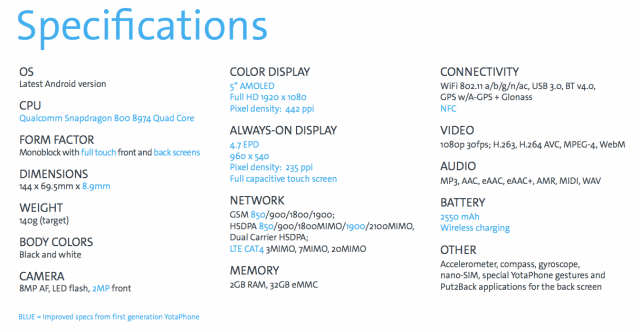 Camera
The YotaPhone 2 comes with an 8-megapixel rear camera and a 2-megapixel front cam for selfies. We're not worried about the resolution, but the quality, and initial impressions do paint a picture of a decent but not great camera experience. Lack of 4K is a more noticeable drawback (technically, 4K requires a bit higher resolution than 8 megapixels, so it's not even possible to have it here). We're also left a bit disappointed with the sheer resolution of the front cam as the selfie phenomenon has grown so much in importance that we wish for a more versatile front cam.
Battery life
Battery life is one of the biggest advantages for the YotaPhone 2, as the extended use of the secondary screen adds a huge boost to battery longevity. If you choose to use just the rear display almost exclusively, Yota says you should expect to squeeze 58-68 hours out of the battery which is a full three days off the charge. Impressive.
Expectations
All in all, the YotaPhone 2 has a distinct flavor that many will like. The secondary e-ink screen is great for bookworms, and it does bring a substantial boost to battery life. Plus, the design is likeable. For all else, though, the YotaPhone 2 seems a bit behind the times: the system chip is dated, and the camera experience seems a bit rough, at least at first sight. We're looking forward to taking a deeper look at the phone to give you a more conclusive opinion, but now it's your turn to share: do you like the YotaPhone 2?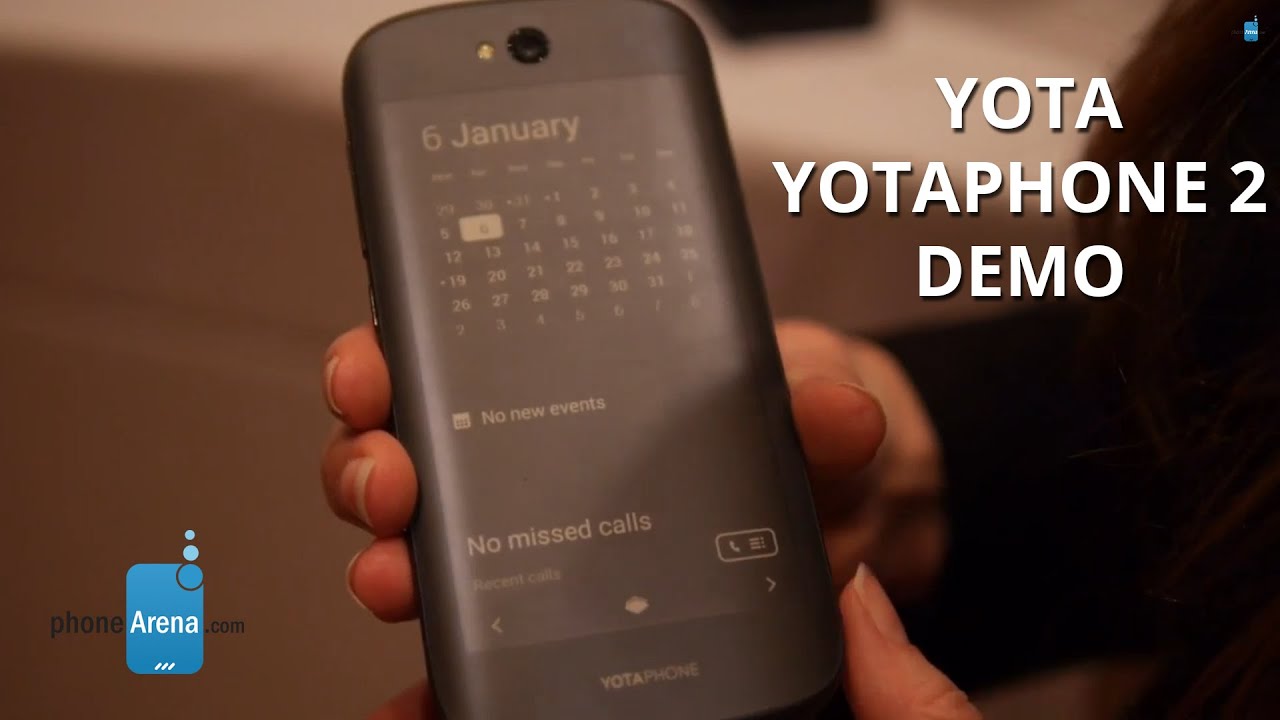 Recommended Stories