Xperia Play microwaved on video
6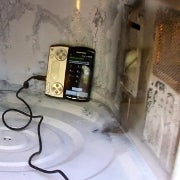 There is no need to do anything crazy nowadays. The minute you think about something really
stupid
daring and Google it, someone has already done it and posted a video on YouTube detailing the experience.
So if you ever had the itch to throw your phone in the microwave and slowly cook it until its guts boil and the thing explodes into pieces - no need for that now. The professional microwave operators from dOvetastic Microwave Theater slipped a
Sony Ericsson Xperia Play
, of all things, in a microwave oven, and cranked up those molecule-boiling waves.
The results after ten minutes of microwaving or so, are a completely melted and destroyed handset, and a totally messed up microwave unit, as you can easily imagine. Watch the carnage in the video below - the guy is even selling the framed remains on eBay for $888, so you have four more days to pony up and get them.