Xiaomi teaser shows curved, ceramic body for the Xiaomi Mi 5s and Mi 5s Plus?
12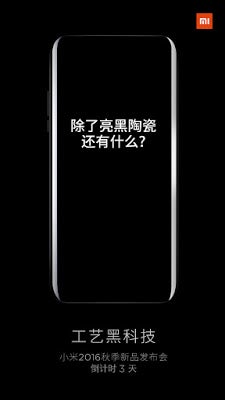 Teaser from Xiaomi hints at ceramic body and tapered back for the mythical Mi 5s
Mi 5s or no Mi 5s, that is the question. If Shakespeare were alive today, he might have written that line in a new play after observing everything that has been going on over the last few weeks. We have seen benchmark tests revealing high-end specs, and
a teaser promoting an extremely high AnTuTu score
for a phone named the Xiaomi Mi 5s. The 164,000+ scored by the device makes it unlikely that
the new Xiaomi phone certified by TENAA
that we showed you this morning, is the heavily anticipated model. We also have to keep in mind that a message board response allegedly from the company
suggests that there is no Mi 5s
, and that the phone(s) might have another name, like the Mi Note S.
A new teaser released by Xiaomi late yesterday, reveals that like its flagship
Xiaomi Mi 5
, the Mi 5s (or whatever it will be named) has a ceramic body. The teaser also hints that the new handset will feature a tapered back, another trait of the Mi 5.
Just the other day,
Xiaomi CEO Lei Jun released camera samples
from the Mi 5s. As with everything else about this device, there are conflicting reports about what to expect from the rear camera on this model. We've pointed out that many expect a 16MP shooter sporting a 4-axis OIS, PDAF laser focusing and an aperture of f/1.8. Others have stated that there is a dual camera setup on the back of this unit. Considering that there could be two versions of this device (the Mi 5s and Mi 5s Plus), perhaps both are right. Knowing the manufacturer's history of following a certain Cupertino based tech firm, this would be very Apple-esque.
Just as night follows day, you can expect more leaks ahead. Some might be real, others will be much ado about nothing.
source:
TechUpdate3