Xiaomi continues to sell more than Apple in China, Samsung and Lenovo still at the helm
16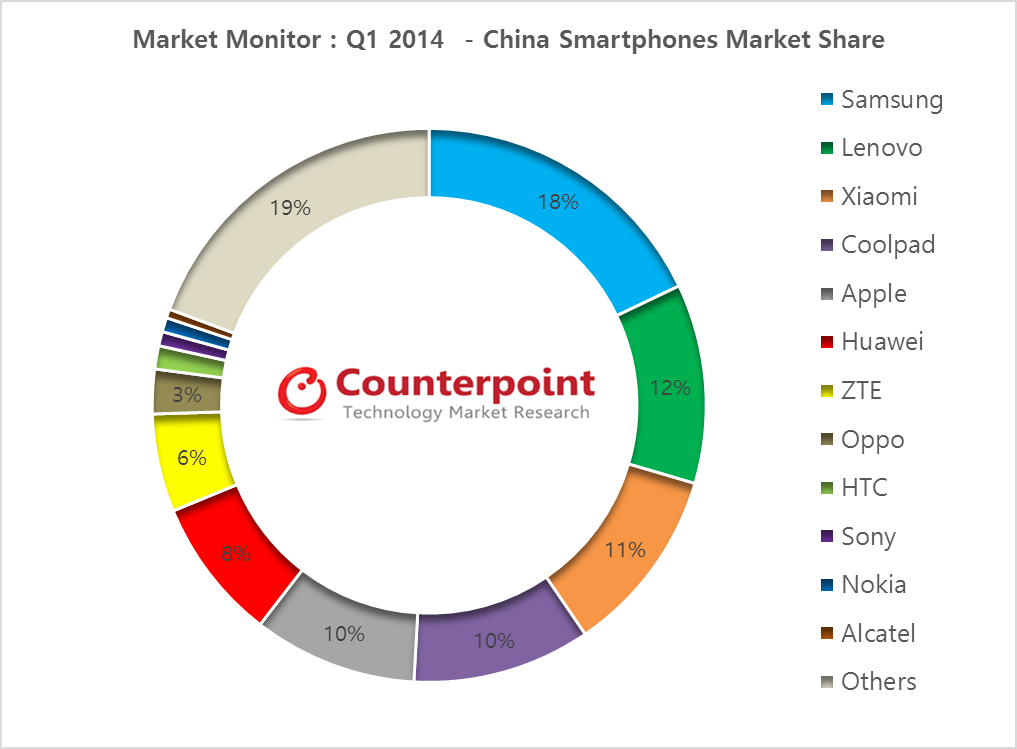 According to data by Counterpoint's Technology Market Research, published by the Korea Herald, Chinese Xiaomi continues its lead over Apple in terms of market share in the Middle Kingdom.
Back in August
, Canalys first reported that Xiaomi is gaining ground in China, and even surpassed the Cupertino-based company.
Xiaomi, which is seeing stratospheric growth in its home country, held 11% of the market in China in the first quarter of 2014. Known for producing quality smartphones and then selling them with small mark-ups, the local vendor continues to hold the number three, with Apple an inch behind, at 10%. That's not surprising, seeing as the majority of Chinese smartphone buyers mostly shop at the low-cost aisle, and the iPhone only recently started selling on China Telecom -- the country's biggest carrier.
The study also calls out the two market leaders in China -- Samsung and Lenovo -- which grabbed an 18% and 12% share in Q1. Coolpad, at 10%, is tied with Apple, and both are closely-followed by Huawei, which holds 8% of the pie. ZTE and Oppo had it the worst -- the two companies captured 6% and 3% respectively.
As the world's biggest smartphone market, China is obviously getting higher and higher on manufacturers' agenda, and there are definitely those that consider it crucial for a company's future odds of survival. That said, the commoditization of smartphones has brought down (and continues to squeeze) profit margins to a point where only a few brands are actually making a real buck. That's a godsend for consumers, but it might cost us the current diversity in products somewhere down the line.
Recommended Stories