Xiaomi clones Pressy, may release it next week
17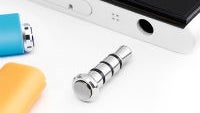 Xiaomi is a company on the rise. It's devices are extremely popular in its native China, because of the combination of low-cost and high performance that they offer. The company has gotten quite big, big enough to be able to clone an interesting device, severely undercut the competition, and even beat it to market. At least, that's what seems to be happening right now with an apparent Xiaomi clone of Pressy.
If you don't know,
Pressy
is an Android accessory that was a
huge hit
on Kickstarter. The device is relatively simple, but quite interesting. It has a single button, and will plug into the headphone jack of your phone or tablet. Pressy can be configured to perform 10 different tasks, including taking a picture, turning on the flashlight, checking-in on social networks, or toggling settings. Pressy had planned to ship in March, but still hasn't gone out to its Kickstarter backers.
Ex-Googler and current VP of Xiaomi Global, Hugo Barra posted today about a device coming from the company that does exactly the exact same thing. Reports claim that Xiaomi will be releasing the device internationally on April 8th, although the U.S. isn't part of the initial release. Even worse for Pressy, Xiaomi is reportedly going to be offering its device for just 79 cents, which is quite a bit less than Pressy's $27 price tag.
Of course, Pressy won't be taking this lying down. The company made a statement to
Engadget
on the matter, saying:
Though the knock-off versions were anticipated, we did not expect to see it from such a respectable and known company ... We have IP rights for the design and functionality of Pressy, and are considering our next moves to handle the situation.
We'll have to keep an eye on this, because it has all the makings of a real mess.