Pressy brings the configurable physical button you always missed on your Android smartphone
26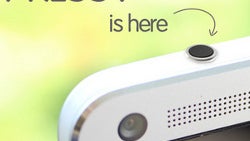 What if you could add a physical button to the Samsung Galaxy S4 or the HTC One? Pressy is a Kickstarter project that allows you to do just that and not just with the S4 and the One, but with any Android smartphone out there. What do you need that physical button for? Problem is this year's top of the line devices like the Samsung Galaxy S4 or the HTC One do not have a dedicated camera key and ask any photographer to see that's a needed convenience.
Pressy however can be modified to do all sorts of things. It supports long and short presses, and you can configure it to do all sorts of actions - call someone, fire up the LED light on the back, send a text and so on.
How does it work, though, and where do you put this physical button? The idea is simple - plug the little button inside the 3.5mm headset jack and the button is right on top of it, protruding just 0.7mm, enough for you to find it without looking but not really sticking out.
"Pressy - the Almighty Android Button!"
is on Kicstarter right now and a simple $25 pledge would buy you one. Hit the source link at the bottom of this article to reserve yours if you like it.
source:
Kickstarter