New chart makes us wonder why we paid to upgrade our phones from 2015-2017
7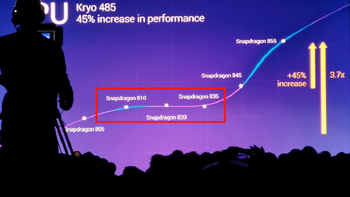 Xiaomi today held a new product event during which it unveiled the 5G version of the
Mi Mix 3
, and its new
Mi 9
flagship. During the event, the company happened to display a chart showing CPU performance on various Snapdragon chipsets over the years starting with the Snapdragon 805, unveiled in November 2013. The goal of the chart was to highlight a 45% increase in the performance of the Kryo 485 CPUs on the new Snapdragon 855 Mobile Platform, compared with the Kryo 385 CPUs on last year's Snapdragon 845 SoC. The Snapdragon 855 will power Xiaomi's newly introduced handsets.
The fallout from the overheating Snapdragon 810 saw Samsung use its Exynos chip for the
Galaxy S6
line in all regions (usually in China and the U.S., Samsung uses Qualcomm's chipset), and Qualcomm made some changes for the Snapdragon 820 SoC. It debuted its own Kryo CPU, and reduced the number of cores to four from the eight found on the Snapdragon 810.
Perhaps the chart is not drawn to scale, or Xiaomi sourced some incorrect information because each generation of the Snapdragon chip did include a jump in CPU performance.