Xiaomi goes full communist, vows its phone profits will never exceed 5%
31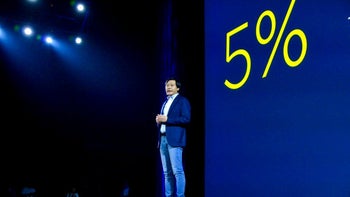 Yes, you can get a sturdy 6" metal phone with thin bezels, midrange Snapdragon, good camera, 4GB RAM/64GB storage, and 4000mAh battery for $220. Yes, we are talking about China's new sales darling, Xiaomi. Despite having little retail presence, and counting mostly on direct online sales, the company is now one of the best-selling brands in its home turf, moving 12 million units there in Q1.
Needless to say, the secret of its success is great handsets sold at ultrathin profit margins. While that last thing can be said for a lot of Chinese brands, the first is usually reserved for the top dogs, and that's where Xiaomi shines. How does the company do it, if it manages to keep prices so low? Well, its former CEO,
ex-Googler Hugo Barra
, disclosed that they usually start selling their devices around cost, but give them a very long shelf life, compared to the direct competitors. When the components' prices eventually go down, Xiaomi manages to set on a decent margin, and that's how it keeps the business sustainable.
Thankfully, this will be the business model for Xiaomi going forward, too. In fact, its founder Lei Jun just got on stage today, and announced that Xiaomi will strive to never exceed a 5% profit margin on all of its gear, including phones. If, for some reason, net income goes above 5% after taxes, the company will find ways to compensate consumers, he added. It's a pretty admirable idea from the user point of view, as things that cost peanuts to make in China, can arrive with a 10x markup in the stores, and not only Western ones.
Cost efficiency is at the heart of business competition, and a 5% limit on our overall hardware net profit margin is evidence of our high-cost efficiency. Quality products with honest pricing are two inseparable concepts. If the product quality is not high enough, users will not enjoy it no matter how low the price is. We need to ensure that we keep within the 5% limit on hardware net profit ratio while maintaining competitiveness at the same time. To do so, we need innovative technology and outstanding design, in order to launch products that exceed our users' expectations. Simultaneously, we need to maintain honest pricing; only then will we able to touch the hearts of our users.
Call it populism or even communism, Xiaomi has proven it can deliver great phones at near cost, and it is seemingly a company philosophy rather than one-off shots. The founder used today's Mi 6X launch to hammer the point home, and hinted at plans for global expansion, too, with the following:
In the past eight years, our high-performing and well-priced smartphones have raised the standards on performance and quality in the entire industry, contributing significantly to the rise of the mobile internet in China. We are now looking to extend this positive influence to the entire world.