Xiaomi Redmi Note 2 global preorders start, that $125 price was too good to be true
11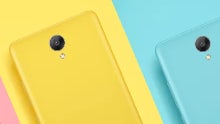 Not only are carriers, even in the US, doing away with phone subsidies, but $200-$400 midrangers now are so capable, that you will probably be able to do 80% or more of what you usually do with a phone on them for a half, or even a third of the price that the
Note5
or
iPhone 6
command.
Xiaomi took the stage last week, and unleashed perhaps the best value-for-money offering that we've come across this year. The
Redmi Note 2
offers a 5.5" 1080p display, 64-bit Helio X10 chipset, 2 GB of RAM, 13 MP camera and a 3060 mAh battery at the rock bottom $125 pricing, at least on paper. Even the more expensive Redmi Note 2 Prime that comes with a faster CPU clock and 32 GB storage, was pegged at the equivalent of $155, and Xiaomi moved about 800, 000 units of the Note 2 models at these prices on the first day of its flash sale.
This all fine and dandy, but, as often happens with such unbelievably low prices that Chinese makers announce, if you want to get the phone internationally, and outside of a limited flash sale, the prices will be different. One of the biggest Chinese e-tailers just started taking its preorders for the Redmi Note 2, with free shipping to most countries worldwide, and the tags are pretty different. The basic 16 GB version of the Note 2 will set you back $168.85, which is 35% higher than Xiaomi's suggested price, while the Note 2 Prime passes the two Benjamins mark to arrive at $205.85. Other popular stores for global delivery of Chinese handsets have it for even more, at $179 and $209, respectively.
This is still great pricing for what would most likely be a stellar handset for the money, but the point is that this $125 tag bandied about is not all that is cracked up to be. With the subsidy removal, however, people might be looking less and less at expensive iPhones and Samsungs, and more at value-for-money blockbusters like the ones from Motorola, Meizu or Xiaomi, what do you think?