Xiaomi Mi Note pre-orders are, reportedly, through the roof
14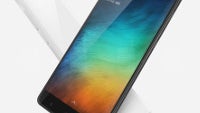 So, at the end of last week, Xiaomi announced
not one
, but
two
new flagships – the
Mi Note
, being comprised of top-shelf 2014 hardware; and the
Mi Note Pro
– the cream of Xiaomi's crop, which will bear a Snapdragon 810 and carry the company's product line into the 64-bit age of smartphones.
Both handsets sport identical impressive design and are a testament to Xiaomi's determination to churn out some amazing, premium-looking handsets. They will also be the company's
most expensive flagships
to date, with the 64 GB version of the regular Mi Note costing (in China) around $450, while the Pro variant will bear a tag around $530.
Even with the slightly pricier handsets,
analysts predict
that Xiaomi will ship between 13 and 15 million Mi Note phones in 2015. We don't know for sure, whether this includes both Note models, or if it's a prediction about the regular one only, but a report from China claims that today, when the pre-orders for the Mi Note opened up, the amount of reserved handsets was massive. It is probably too early for an approximate count of pre-sales to be made, as the numbers are probably still flowing in at a huge pace, but one has to wonder – Xiaomi is supposed to start shipping the Mi Note on January 27th – will the company be able to keep up with the purported demand, or will it struggle to balance supply and demand for the next few months, just like Apple did with the iPhone 6 and the saga of its worldwide sales?
And what will happen when the Note Pro arrives? The 64-bit phablet will be launched sometime in March, presumably because Qualcomm needs time to set up a steady supply of Snapdragon 810 units – and that may be a good idea, because if the Mi Note Pro sells like hot cakes as well, the silicon slinger may have trouble (it will be supplying many other manufacturers with the very same SoC, too).
via:
Android Headlines