Xiaomi Mi 5 Pro's ceramic back gets scratched, drilled, and filed on video, fares better than expected
9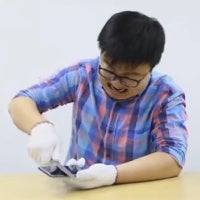 Okay, we admit - we like to watch the latest and greatest devices get tortured, smashed, totaled, wrecked, and we just can't help it! Earlier today, we got to see
a Galaxy S7 edge literally burst
in fumes and flames after an unfortunate rendezvous with a hydraulic press, but sadly, this did not sate our hunger for destruction!
Fortunately, we stumbled upon a brand new torture test of the
Xiaomi Mi 5 Pro
.
"What a perfect timing,"
we thought,
"this might keep us satisfied for a while".
Unfortunately, it didn't - it turns out the Mi 5 Pro is a bit more resilient than we imagined.
Part of this is due to its ceramic back, which proves to be quite sturdy as it survives scratching, filing, and even drilling by a sadistic gentleman. Well, at least
it seems
that the phone handles these treatments well - the video is not exactly what we'd call a high-res one, so any small scratches or damage certainly can't be spotted.
Watch it out below and judge yourselves.