Xiaomi, Huawei and other manufacturers are feeling the heat from the Apple iPhone SE
27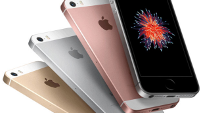 The iPhone model that is creating havoc in China is not the
Apple iPhone 6s
or the
Apple iPhone 6s Plus
. Nope, the one iPhone model that has executives at Chinese manufacturers staying up all night is the new 4-inch
Apple iPhone SE
.
The phone received 3.4 million pre-orders in China
and has been taking sales from companies like Huawei, Xiaomi, Oppo and Vivo.
According to a report published today, suppliers in the handset supply chain in China and Taiwan are refusing to built up inventories of parts, partly because of the success of the iPhone SE. What drives demand for Apple's new 4-inch handset is the powerful hardware inside the device. The same A9 chipset that drives the Apple iPhone 6s and Apple iPhone 6s Plus powers the iPhone SE. In addition, it features the same 12MP snapper found on the back of the iPhone 6s, and supports Apple Pay. Even though it doesn't have 3D Touch, it does offer Live Photos. And Touch ID is on board although it is the first-gen unit, not the newer and quicker sensor.
The smartphone supply chain in China and Taiwan has another reason beside the iPhone SE to keep inventories of parts light. Last year, those supplying camera modules to smartphone manufacturers were encouraged by those companies to keep inventories high. But most of these smartphone producers shipped only 70% to 80% of their projections for the year, which has made the supply chain gun shy.
As a good example of this, Xiaomi told suppliers in March of last year to carry enough inventory to
cover the shipping of 80 million to 100 million Xiaomi handsets
in 2015. Instead,
the company shipped slightly more than 70 million units
.
source:
DigiTimes