X-Ray of Apple iPad 2 shows A5 chips built by Samsung
16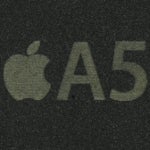 We
reported
the other day that Apple had signed a deal with Taiwan Semiconductor Manufacturing for the latter to build A5 CPU chips. But apparently, the ink on the contract has not yet dried because analysis of X-Rays taken of the Apple iPad 2 show that Samsung manufactured the A5 CPU chips currently used in the device.
By looking at the shape of the transistor gates and dielectric layers and comparing them to the chips used in the original iPad, analysts at Chipworks and UBM TechInsights have been able to conclude that Samsung made processors remain at the heart of the sequel to Apple's wildly successful tablet. But this is bound to change.
Chipworks analysts believe that the gang at Cupertino is unwilling to continue to buy a rival's parts and Samsung is certainly an Apple competitor in handsets with the Galaxy S line of Android phones, and with the Galaxy Tab series of Android-based tablets. As a result, Apple is expected to slowly change over to chips made by TSMC.
Chipworks noted that the size of the A5 chip used in the iPad 2 is about double the size of the A4, used in the original Apple iPad. The new chip measures 10.1 x 12.1 mm, compared to 7.3 x 7.3 mm for the A4.
Despite the news of Apple's contract with TSMC, the company is still expected to be Samsung's largest customer this year, with $7.8 billion in sales estimated to be generated for the Korean based manufacturer in 2011.
source:
AppleInsider
XRays show that the A5 chip used in the current iPad 2 units are manufactured by Samsung