Woz shows up in new jOBS production stills
11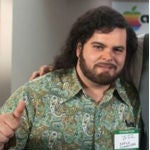 The first Steve Jobs biopic scheduled for release, jOBS, is getting ever closer to its premiere in April, and now we're getting the first production stills showing the other Steve, the always lovable Steve Wozniak. Woz was the technical genus of the pair, while Jobs had more of an eye for design, and marketing.
We've seen a few different shots of
Ashton Kutcher as Jobs
, and the likeness is pretty spot on. Woz is being played by Josh Gad, who is most well known as a comedic actor in things like
1600 Penn
, and the Broadway production
The Book of Mormon
. This will be the first prominent dramatic role for Gad, so it will be interesting to see how it turns out. He has a bit of resemblance to Woz, but to be fair, Woz has a very unique look that's harder to match than Jobs.
Gad told
USA Today
that it was actually something of a shock when Kutcher first came on set as Jobs, "There is an eerie resemblance - he didn't have to do much to get there. When he showed up, it sent a ripple of shock throughout the set."